Views: 264
Read Time:
3 Minute, 25 Second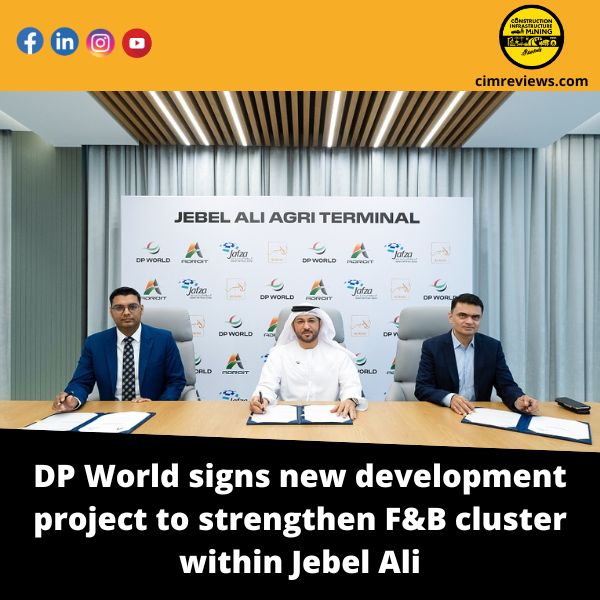 The action is in keeping with the UAE's National Food Security Strategy 2051, which aims to end world hunger by promoting international food trade, diversifying the sources of food imports, and identifying alternate supply systems.
The brand-new integrated quayside facilities will increase the production and availability of vital grains and pulses throughout the year. A reliable, dependable, and secure agricultural value chain in the area will be made possible by the concessions with Adroit Canada and Al Amir Foods in the Jebel Ali Port.
Abdulla bin Damithan, CEO and managing director of DP World UAE and Jafza, Yogesh Raipuria, CEO of Adroit Canada, Yasin Abdul Majid Ranani, managing director of Al Amir Foods, and other representatives from the organisations were present at the signing ceremony.
Dubai has established itself as a key gateway for international trade in the food and beverage industry thanks to DP World UAE's Food and Agriculture Terminal at the Jebel Ali Port. Dubai's external trade in foods increased 11% year-over-year to $15.5 billion in 2021 from $14 billion in 2020, supported by export growth in the double digits.
The facilities will have a unique eco-system for bulk silo storage and agri-processing after an estimated $54.5 million investment. As part of the project, DP World will also make investments in the most adaptable and cutting-edge automated material handling and ferrying systems for grains and pulses. The facilities will gradually be expanded after they start operating in two years.
"DP World has been a significant contributor to the growth of the F&B sector," said Bin Damithan. Our focus is always on helping programmes like the National Food Security Strategy 2051 achieve the nation's objectives. In line with this, we anticipate facilitating agri-trade and enhancing trade for the Middle East and the UAE through our recent developments at the Jebel Ali Port.
"Our flagship port has consistently upheld its preeminent position as a key hub for logistics and trade. Once operational, the facilities will undoubtedly make use of our resources, bringing Dubai sizable new trade volumes and increasing investment in the port and the free zone in Jebel Ali. Most importantly, we want to achieve through these projects
It is an honour to continue our relationship with DP World UAE, Raipuria responded. With the opening of our new agri-facility in Jebel Ali, our productive partnership that began with our presence in Jafza continues. Our business will undoubtedly grow as a result of the port's advantageous location, the company's experience in providing end-to-end services throughout the supply chain, and our capabilities.
"Our new facility in the Jebel Ali Port will serve as a gateway to the world, expanding our reach and putting us in a position to meet the demands of the rapidly expanding pulses market," said Ranani.
We anticipate efficiently utilising the port's seamless import and export facilities, extensive logistics network, and DP World's comprehensive digital platforms to speed up our international agri-food and pulse trade and contribute to the F&B trade globally.
The unique ability of DP World to offer infrastructure, connectivity, and services is reflected in its vision for development as a global trade enabler. The agri-facilities will boost Jebel Ali's status as a regional trade hub and aid Dubai's economic development.
The facilities are anticipated to generate more than $245.2 million in annual trade, which will help Dubai achieve its strategic goal of increasing foreign trade to $545 billion. With their presence in the Jebel Ali Port and Jafza, the companies will gain a lot from access to more than 3.5 billion consumers, reduced logistics costs, and multimodal connectivity.
The two buildings will be situated on a nearly 100,000 m2 quayside plot, of which the companies have leased 61,000 m2. An integrated agri-storage and processing unit makes up the project.
Group Media Publication
Construction, Infrastructure and Mining
General News Platforms – IHTLive.com
Entertainment News Platforms – https://anyflix.in/
Legal and Laws News Platforms – https://legalmatters.in/
Podcast Platforms – https://anyfm.in/