Views: 184
Read Time:
3 Minute, 13 Second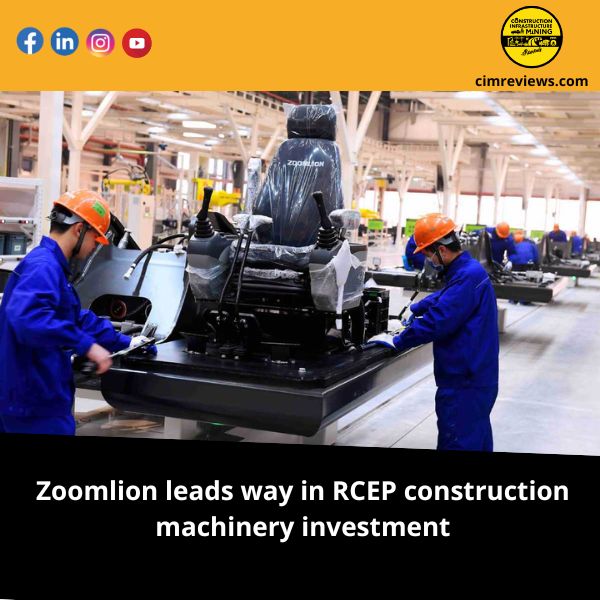 According to a senior executive on Wednesday, Zoomlion Heavy Industry Science and Technology Co Ltd, one of China's largest producers of construction machines, will make more greenfield investments in R.C.E.P. signatory nations in the coming years.
Sites that have not yet been developed for commercial use are referred to as greenfield. These locations have a number of potential advantages for developers, including the chance to build brand-new infrastructure from the ground up, space for business expansion, and quicker building schedules.
Fu Ling, a delegate to the 20th National Congress of the Communist Party of China and also the group's vice-president and chief engineer, stated that Zoomlion will further diversify its investment portfolio in RCEP-related markets in addition to the trading and financial leasing companies it established in Australia, Japan, Indonesia, Thailand, Vietnam, and other nations in recent years.
In the long run, the company will be able to transport more goods to other RCEP markets because to the RCEP members' increased economic integration and the expansion of infrastructure projects fueled by the Belt and Road Initiative.
Since the RCEP agreement went into effect on January 1, it has benefited businesses more and more with tariff reductions, trade facilitation, and other policies. According to the Ministry of Commerce, commerce between China and the other RCEP participants totaled 8.32 trillion yuan ($1.15 trillion) in the first eight months, or 30.5 percent of China's overall foreign trade.
To pave the way for the transfer of developed production capacity from the home market, as well as the integration and allocation of the group's global resources, Fu said, "We will establish new plants and rely on localised manufacturing centres to grow business in key emerging markets and developing countries."
Zoomlion's export value increased by 40% annually between January and August thanks to localization strategies and the use of digital solutions for its products, which include concrete and construction lifting equipment, cranes, and earthmoving machinery. The company also reported that its sales in Indonesia, the United Arab Emirates, Saudi Arabia, and Vietnam increased by more than 100% annually.
Zoomlion presently operates more than 50 manufacturing bases, R&D centres, and business branches worldwide, with its marketplaces spanning more than 100 nations and regions. With the help of more than 25,000 workers, the group generated operational revenue of 67.13 billion yuan in 2021, and foreign income increased 51.05 percent year over year.
To increase its competitiveness in South America and the Middle East, Zoomlion is now developing logistics and components supply hubs in Brazil and the UAE in addition to its plans to construct plants in Saudi Arabia and Turkey.
According to the most recent data from Beijing-based China Machinery Industry Federation, the overall export value of China's construction machinery increased 28.6 percent annually to $25.96 billion from January to July as a result of increasing global demand, particularly in developing markets.
Zhao Ping, deputy head of the Academy of China Council for the Promotion of International Trade in Beijing, said that despite facing protectionism and anti-globalization sentiment in some parts of the world, China has been advancing high-level opening-up with practical measures and has continued to encourage domestic companies to expand their global market presence.
These actions will support cross-border trade and hasten the global economic recovery, which is being slowed down by the COVID-19 epidemic, geopolitical unrest, and interest rate increases in rich economies, according to Zhao.
According to the Ministry of Commerce, China's non-financial outbound direct investment increased 5.8% yearly to $75.11 billion between January and August.
Group Media Publication
Construction, Infrastructure and Mining
General News Platforms – IHTLive.com
Entertainment News Platforms – https://anyflix.in/
Legal and Laws News Platforms – https://legalmatters.in/
Podcast Platforms – https://anyfm.in/