Views: 284
Read Time:
1 Minute, 36 Second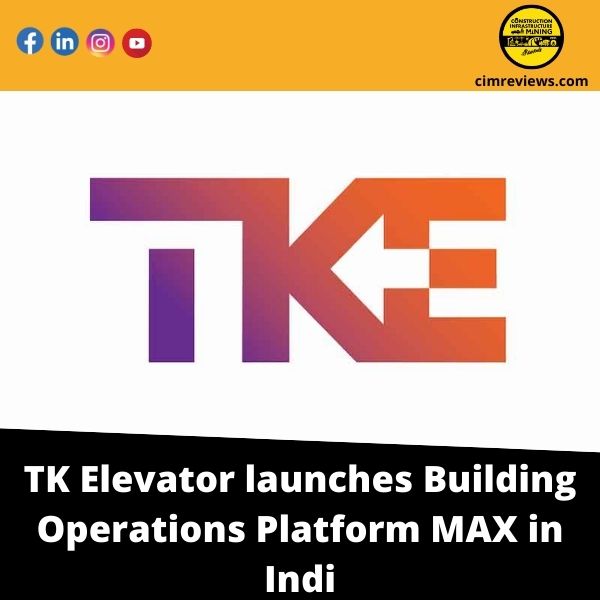 In India, TK Elevator has released their flagship building operations platform MAX. MAX offers cloud-based maintenance data and insights to building operations, adding value for building owners, property managers, and maintenance employees by providing more efficient operations and better vertical mobility system availability.
The MAX and AGILE platforms, which cater to the needs of building operations and people experience, respectively, comprise TK Elevator's all-encompassing digital solutions. Smart Maintenance will be the flagship product of the MAX line in the Asia Pacific area. MAX allows optimal customer service for building operators and managers by evaluating real-time data from connected elevators, escalators, and moving walks as economic expansion and infrastructure development continue in India.
Property managers and maintenance employees may simply manage the entire property through one complete platform by leveraging the availability of real-time status of elevators and escalators, taking full use of MAX's predictive and smart maintenance.
"TK Elevator has set a solid foundation for the digitization of vertical mobility systems with MAX, the industry's first cloud-based predictive maintenance solution." MAX complements our cutting-edge digital elevator calling and dispatch system AGILE, which provides an optimum passenger experience and smart destination control," stated Manish Mehan, TK Elevator's CEO India. "These digital solutions will boost TK Elevator's position in the highly competitive Indian market, generate best-in-class client experiences, and maintain our leadership position as an innovator."
MAX is the best building operations solution for all scale elevator and escalator operators. From standalone TKE elevators in residential buildings to hundreds of newly installed or modernised TKE units in commercial facilities or infrastructure projects, adding MAX new or as retrofits provides property owners and managers with varying levels of operation and maintenance insights via its MAX plus, MAX pro, and MAX premium packages.
Construction, Infrastructure & Mining Group Media Publications
https://anyflix.in/, https://legalmatters.in/ & https://ihtlive.com/