Views: 190
Read Time:
1 Minute, 18 Second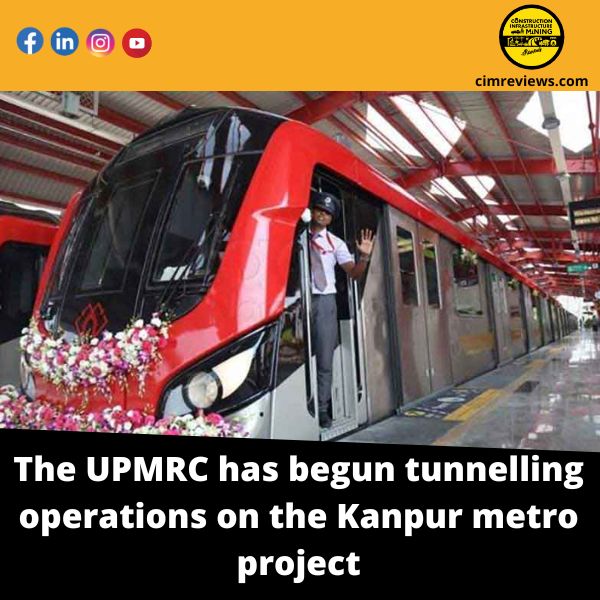 The first Tunnel Boring Machine (TBM) segment was recently lowered in the launching shaft created at Bada Chauraha as part of the Kanpur Metro Rail Project's First Corridor (between IIT-Kanpur and Naubasta).
The UPMRC is accelerating tunnel construction, and the process of lowering the TBM has begun with the lowering of the middle shield, which weighs 120 tonnes, using 400-ton and 250-ton heavy crawler cranes. This shield was put on the cradle within the shaft, and the machine's Front shield, Tail shield, and Cutter head were all lowered into the rectangular shaft after that. To complete the machine, all of these segments will be positioned in the shaft, and mechanical components and cables will be linked. Since October 2021, precast concrete rings for the tunnel have being cast.
Two TBM machines will be launched from the Bada Chauraha launching shaft to construct tunnels in the Nayaganj direction. To ensure safety during TBM operations, extensive equipment will be installed throughout the entire section, and a team of specialised professionals will conduct continuous online and real-time monitoring. TBMs are equipped with a state-of-the-art on-board computerised tunnel guidance system to ensure that tunnelling follows the intended alignment to the highest degree of accuracy. After constructing a 990m tunnel, the TBM will be collected at Phoolbagh-Nayaganj station.
Construction, Infrastructure and Mining Group Media Publication
General News Platforms – IHTLive.com
Entertainment News Platforms – https://anyflix.in/
Legal and Laws News Platforms – https://legalmatters.in/
Podcast Platforms – https://anyfm.in/