Views: 199
Read Time:
16 Minute, 9 Second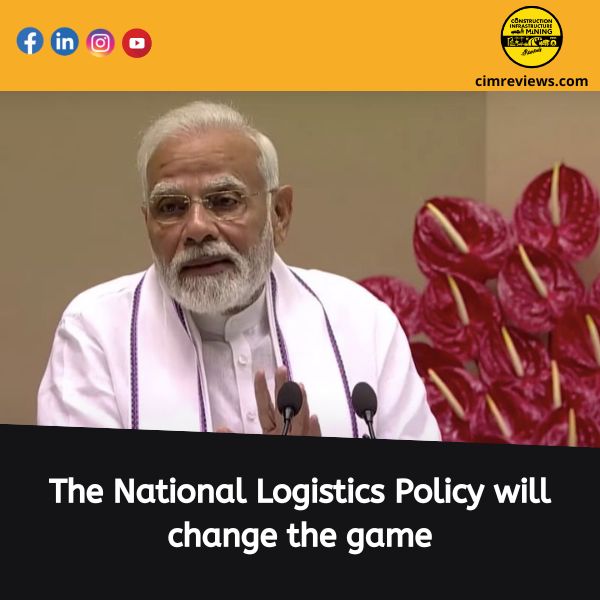 The National Logistics Policy was introduced by Prime Minister Narendra Modi in a bold drive to promote employment possibilities, boost economic growth and infrastructure development, and strengthen the competitiveness of Indian goods.
He stated, "Consistent efforts were made, and one of those efforts is the National Logistics Policy. It ensures speedy last mile delivery, ends transport-related issues, saves time and money for the producers, and prevents wasting of the agro-products." The consequent increase in coordination will cause the sector to move at the desired speed.
In order to make Indian products more competitive in both domestic and international markets, the national logistics policy seeks to lower logistics costs in India. This would boost productivity in a number of economic sectors while promoting innovation and business.
The prime minister has a goal of creating contemporary infrastructure of the highest calibre by including all interested parties in comprehensive planning and implementation, which will increase project efficiency and synergy.
Dedicated Freight Corridors' endeavour to increase logistics connectivity for methodical infrastructure development was accelerated by programmes like Sagarmala and Bharatmala. The efficiency of the logistics industry has substantially risen as a result of initiatives like the paperless EXIM trade process through e-sanchit, faceless assessment for customs, provisions for e-way bills, FASTag, etc.
A trailblazing move in this area was the PM GatiShakti National Master Plan for Multi-Modal Connectivity, introduced by the Prime Minister last year. The National Logistics Policy's debut will give PM GatiShakti an additional boost.
The policy's Unified Logistics Interface Platform (ULIP) will consolidate all digital services associated to the transportation industry into a single site, relieving exporters of a number of extremely time-consuming and onerous procedures. Ease of logistics services – E-Logs, a new digital platform, has also been launched. The PM stated that industry groups can directly address any such issues that are hindering their operations and performance with the government agencies through this portal. Additionally, a thorough system has been established for the swift handling of such matters.
The Prime Minister emphasised the importance of having a robust support structure if India's products are to rule the global market. He continued, "The National Logistics Policy will significantly aid in the modernization of this support system. Not only would a stronger logistics industry improve the lives of the average person, it will also contribute to a greater respect for labour and workers.
Business Reactions:
Chairman and CEO of CJ Darcl Logistics, K.K. Agarwal
The National Logistics Policy was crucial in helping India's economy thrive by increasing efficiency and cutting down logistics costs. The government's today-announced plans would assist lower logistics costs from their current level of roughly 15% of GDP to 8-9% of GDP and increase the competitiveness of our products for both home and foreign markets. We anticipate significant growth in the movement of products by rail and sea as ULIP serves as a major catalyst for the expansion and development of logistics.
Allcargo Group's founder and chairman, Shashi Kiran Shetty
"The government made a bold decision by launching NLP, which will increase speed and efficiency while bringing transparency through digital integration. It will make it possible to create logistics infrastructure quickly, improve collaboration between various parties, streamline procedures and documentation, and improve last-mile connection. With increased prospects for job creation and more effective logistical service delivery, especially for small firms, the NLP will usher in more inclusive progress for our nation. It adopts a comprehensive strategy to help India become self-sufficient and a centre of global manufacturing. A paradigm shift in the Indian logistics sector may result from the ambitious target of reducing costs by up to 25%, which will also increase India's export competitiveness on the world market. NLP will serve as a guiding and driving force for the new phase of growth."
Director and Practice Leader-Transport & Logistics, CRISIL, Jagannarayan Padmanabhan
"This is a comprehensive endeavour to boost the effectiveness of every link in the logistics value chain. The government has spent almost Rs 15 lakh crore over the last five fiscal years improving hard infrastructure including roads, rail, ports, and airports.
Although this trend is anticipated to continue, it was crucial to streamline the practical components, such as ease of movement, shared platforms and interfaces for service providers and users, and skill development targeted at the logistics professions. The objectives of the new policy are very clear.
Its proper execution and wide adoption would contribute to a structural reduction in logistics costs and significantly impact the expansion of India's industrial and services industries.
CEO and Co-Founder of Bizongo, Sachin Agrawal
The National Logistics Policy will be crucial in helping MSMEs and the larger industrial industry achieve supply chain and logistics efficiencies as India develops as a manufacturing hub. After the pandemic and subsequent geopolitical unrest exposed the risks to supply chains, the policy will not only support smooth product flow and eliminate supply chain bottlenecks but also enable companies to increase delivery profitability, find new sources of income, and provide a better customer experience. In turn, this will cut down on waste, save money, and ensure India meets its net-zero targets.
The integration of technology and the introduction of a single window e-logistics marketplace, which will lessen the strain of shipping allocations and provide firms more control over supply chains, are the most important aspects of the policy. As India's B2B and B2C e-commerce markets grow quickly, this becomes even more crucial. Given that e-commerce directly affects supply chain, logistics, and warehousing operations, the demand on these sectors is also increasing significantly. On the one hand, corporations are being forced to set up numerous fulfilment centres all over the world due to the industry's rising competitiveness. On the other hand, clients continue to expect quick deliveries and higher standards.
Here, the one window logistics platform will support the convenience of doing business for numerous industry players and enable wise, proactive decision-making. It will be interesting to observe how automation and AI/ML solutions are further integrated into the platform to streamline first-mile to last-mile optimization and guarantee error-free, quick, and efficient dispatches as we move forward.
Mradul K, LogiNext's VP of Global Sales and Strategy
"The logistics industry in India is having a special day today. Our honourable Prime Minister Shri Narendra Modi's announcement of a new national logistics policy would establish new benchmarks for a contemporary, digitally driven logistics sector. The Unified Logistics Interface Platform, which will improve tracking visibility, contemporary warehousing, and operational digitalization—all of which are urgently needed—is a positive development. The initiatives unveiled today, including IDS (Integration of Digital System), ULIP (Unified Logistics interface Platform), ELOG (Ease of Logistics), and SIG (System Improvement Group), will promote sustainability and resilience in the construction of a reliable logistics ecosystem that will support inclusive growth. Additionally, LogiNext has been at the forefront of this industry's digitization, and we'll keep up the good work.
Swarup Bose, Founder and CEO, Celsius
"The NLP has been a much-anticipated reform programme, and I'm pleased with the issues it seeks to address in numerous Logistics-related areas. I believe we will be able to develop a tech-enabled national platform that can accelerate the sector's digitisation and aid in driving transparency and operational efficiency through data-driven insights, particularly with the implementation of the Unified Logistics Interface Platform (ULIP).
A huge help in building a seamless supply chain network is the GatiShakti programme, which intends to develop a national master plan for multi-modal connectivity. This would be essential from the standpoint of a cold supply chain marketplace like ours because it gives us a solid foundation of transportation infrastructure. This will be crucial in building a network of unbroken cold supply chains, which is urgently needed for temperature-controlled food and pharmaceutical operations. The policy also aims to successfully support the export, retail, and manufacturing industries, which can speed up global trade growth and put India on a growth trajectory.
Drones and other such advancements will help improve accessibility for remote and challenging terrain with the use of the NLP, enhancing overall efficacy. This legislation will also cause the digital freight networks to expand tremendously, ensuring return loads and reducing dead miles for the transporters.
Last but not least, powerful reforms like the E-Log, standardisation of warehousing, paperless, digital documentation, GatiShakti Vishwa Vidyalaya for training and upskilling of drivers and handlers, and push on greener transportation through EV's etc. will set the pace to building an effective, economical, and technologically advanced logistic sector for India. We are pleased with the government's efforts to reduce logistical expenses as a SaaS-based marketplace that focuses on the digitalisation of cold supply chains.
The co-founder of OnMove by Zast Logisolutions, Pervinder Singh Chawla
The eagerly anticipated New Logistics Policy is a paradigm-shifting strategy for sustainable development and economic progress. It makes it possible for Logistics to positively impact the nation's economy and GDP. The Policy would streamline the supply chain process with a heavy emphasis on developing a single-window e-logistics market, the creation of employment, skills, and competitiveness for medium and small businesses. The change to multimodal infrastructure, which combines rail, shipping, road, and air transport, would assist reduce traffic congestion in India, where road transportation dominates the logistics sector with a leading share of 60%, as well as the country's cheap crude import costs. From a global standpoint, the policy addresses the pre-existing issues in India's logistics industry. The extensive areas covered by the Policy, such as process re-engineering, a paperless supply chain, seamless multimodal transportation, and modern connectivity for ease of doing business and lower logistical costs, would aid the nation in achieving its economic objectives. India will become a hub for global digital logistics thanks to a sector-specific logistics plan and increased cooperative federalism. For drivers and others, Gati Shakti Vishwavidyalaya will serve as a human resource. By increasing the employment rate, new UG and PG courses and skill development training programmes will strengthen the Indian economy. By establishing a Unified Logistics Interface Platform, the NLP also formalises the logistics industry (ULIP). A Digital Regulatory Interface will be created through the Ease of Logistics Services Portal (E-Log). Through cost-effective logistics, the decrease in transaction costs would stimulate commerce, boost competitiveness, and propel MSMEs. Overall, the NLP is a comprehensive strategy to assist India in becoming one of the Top 25 Logistics Performers in the world and in setting a global benchmark.
Co-founder of iThink Logistics, Zaiba Sarang
"NLP seeks to lower logistics costs from 13% to under 10%. Soon, drones will help with agricultural logistics, bringing products from isolated islands or the farthest reaches of the Himalayas to India's metro area. ULIP, ELOG, Gati Shakti, and numerous more efforts will attempt to give India's logistics cheetah speed. NLP enables even the tiniest member of the ecosystem to access data that was previously only accessible to important players. With their empty trucks, 85% of owners with fewer than 10 trucks can pick up the items from the optimal location, giving them a larger return. Additionally, NLP enables the last mile to close the gap left by the carrier more quickly and efficiently, which benefits business in terms of both time and money. More than 22 million people already rely on logistics for their living, and one of the programmes is to upskill workers and increase job prospects. NLP also aids truck drivers in getting a restful night's sleep on a local level. It will assist the Shramik class in gaining respect and dignity in addition to the other members of the ecosystem.
the MD of Esri India, Agendra Kumar
"The National Logistics Policy (NLP) will propel the industry's urgently required seismic transition toward digitization, reshaping the entire ecosystem and advancing the realisation of Atmanirbhar Bharat. The core pillars of NLP, IDS (Integration of Digital System), ULIP (Unified Logistics interface Platform), and SIG (System Improvement Group), will be supported by technologies like AI, GIS, drones, and others. It would be crucial to provide technology-based, seamless, multi-modal connection by integrating the PM Gati Shakti master plan with GIS data layers. This merger will open a new chapter for the logistics industry by enabling quicker decision-making and the roll-out of crucial projects, which will boost our exports' competitiveness.
CEO and MD of DP World Subcontinent, Rizwan Soomar
"A turning point in India's logistics industry is the introduction of the National Logistics Policy. The government's multifaceted strategy, which it used in the policy to propose legislative and procedural changes affecting infrastructure, services, and human capital, gives the industry a broad strategic direction and will be a major driver of investment.
In order to support the designed Services Improvement Framework and improve regulatory interoperability, standardise logistical processes, and bring the entire multimodal network onto a single digital dashboard, increasing visibility and transparency for all stakeholders, it is essential that a focus on digitization be made through platforms like ULIP and E-LogS. By energising the logistic chains to contribute geometrically to the PM GATI Shakti National Master Plan, the proposed Services Improvement Group will considerably improve collaboration across governance frameworks, increasing efficiency and lowering logistics costs.
It's also a good idea that the strategy emphasises encouraging green logistics by boosting the freight share for environmentally friendly forms of transportation like rail, inland waterways, and coastal shipping. The eight thoroughly considered components of the Comprehensive Logistics Action Plan will assist in operationalizing the NLP in its quest to build sound logistics infrastructure in the country helping make Indian exports competitive and provide a gateway for businesses to seamlessly mesh with global value chains."
Sandeep Wadhwa, Chairman of the PHDCCI Logistics Committee
"The National Logistics Policy would lessen our reliance on the road and combine air, road, and sea modes of transport to significantly lower the cost of logistics in India and finally make our domestic trade and international trade more inexpensive. Additionally, this policy seeks to digitise the logistics sector for improved trade integration and coordination, which will ease corporate operations, facilitate trade, and help India advance. The PM has made a ground-breaking decision. To make this happen, the Ministry of Commerce & Industry has put up tremendous effort.
Gati Shakti Development Forum Chairman Ashish Mohan Wig, PHDCCI
"Given that India has the fifth-largest economy in the world, this approach was unavoidable. The nation's desire for logistics to move at cheetah speed with integration of various forms of transportation may be indicated by the release of the cheetah in the morning and the national logistic policy in the evening. Policy is not progress or an outcome on its own. Performance and policy equal progress. We need to work on it because without a policy, we wouldn't know how to get there or where to go. This policy is the result of eight years of diligent work. It is for systematically developing infrastructure. Initiatives in this direction include Bharat Mala and Sagarmala. Container turnaround time has been lowered from 44 hours to 26 hours.
Co-chairman of the National Council on Logistics for ASSOCHAM and CEO of Sanghvi Movers Limited is Rishi Sanghvi.
The National Logistics Policy will be crucial to the country's strong economic growth because the logistics industry is one of the key trade accelerators in the country.
CEO and co-founder of Freightwalla, Sanjay Bhatia
"India's logistics sector is currently beset by a number of issues, including shipping problems, transportation bottlenecks, and a lack of technological infrastructure, all of which make it more difficult for it to compete with developed economies because of its disorganised structure, manual interface, and fragmented nature. The new logistics policy will modernise the shipping and logistics industry by implementing cutting-edge technology, introducing digitisation to the last mile manufacturing stakeholders, including MSMEs, and developing a strong network with world-class infrastructure. Going paperless has been a long-standing desire, and implementing it will speed up processes.
A big concern voiced by the industry is that by creating a single point of contact for all logistical and supply chain issues, the process would be sped up and the overall cost will drop by roughly 10%. The main goal of the strategy is to make it easier for MSMEs to export their products to other regions of the nation and the world.
There will be less strain on the highways and trains if a strong multimodal logistics hub is established and more inland waterways are developed. We think the policy paper would have been more helpful in addressing the issue of container shortages in the future if it had included product-linked incentives to develop and grow the container manufacturing sector.
Overall, National Logistics Policy has addressed the significant issues facing the sector by offering workable and long-term solutions. The new era of India's logistics business will begin to emerge if seamless technology and superior infrastructure are combined to create an all-inclusive logistics and supply chain ecosystem.
KSH Logistics's COO, Deepak Tiwari
"The National Logistics Policy is a slogan for the logistics community, and it serves as a road map for how to advance toward increasing effectiveness and lowering costs while meeting international standards. The electronic manual on warehousing standards will help warehouses create consistency and best practises.
Snehil Singhai, KSH Logistics's Head of Business Development
"The industry will benefit from the focus on skill and human resource development. The application of NLP will be critically dependent on gender equality.
Arshdeep Singh Mundi, MD, Jujhar Logistics
"By including effective measures, the National Logistics Policy (NLP) is a significant step toward boosting the logistics sector. Some of the transformative initiatives for the entire ecosystem include cost reduction from 14–18% of GDP to 8% by 2030, to meet the worldwide benchmarks, along with an ambitious focus on increasing Logistics Performance Index (LPI) ranking. In addition to these, methods like data-driven decision support systems (DSS), Unified Logistics Interface Platform (ULIP), and Logistics Services (E-Logs) are some of the crucial capacity building blocks that will ultimately address current difficulties.
Gateway Distriparks Chairman and MD Prem Kishan Gupta
The National Logistics Policy, which creates a unified platform for all the various stakeholders in the sector to come together on one platform, is a significant step towards policy reforms of the logistics sector. In particular, it promotes the development of railway infrastructure with last mile connectivity. It will increase freight transportation speed, which will directly increase industrial productivity and make import and export operations easier. Reduced logistical costs are possible thanks to multimodal facilities' ability to transfer people more quickly. Key domestic firms will be able to compete on an equal footing with the global market thanks to the government's goal to reduce costs to single digits in the next five years. The completion of the DFC project, which the government hopes to complete within the next 12 months, will provide a significant boost to exporters, enabling them to meet deadlines, compete globally, and increase volumes, all of which will help the nation's economy grow and move it up from its current position.
Group Media Publication
Construction, Infrastructure and Mining
General News Platforms – IHTLive.com
Entertainment News Platforms – https://anyflix.in/
Legal and Laws News Platforms – https://legalmatters.in/
Podcast Platforms – https://anyfm.in/