Views: 225
Read Time:
2 Minute, 19 Second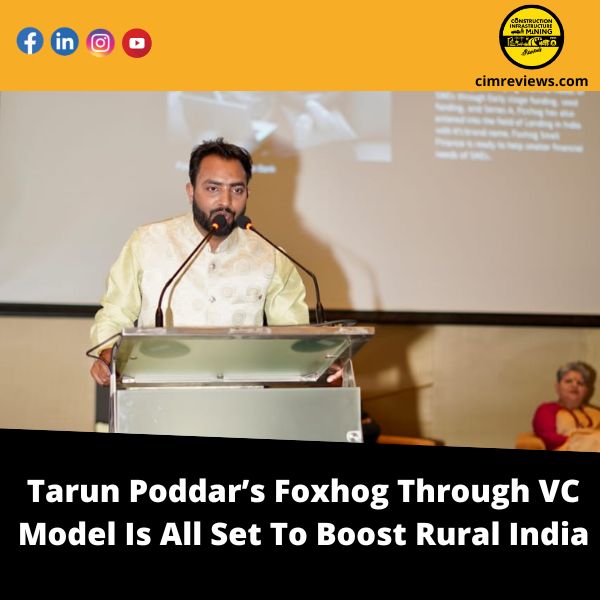 Finding a small loan for your SMEs in the rural Indian region has never been so easy and that too without colleterial.
As Managing Director at US-based venture capital firm Foxhg Ventures Corp. – which specializes in seed, early-, and growth-stage investments – Tarun Poddar finds his purpose in "helping entrepreneurs in whatever way possible" and "simplifying how consumers and businesses interact with one another through technology." He says "Our Investment is not to generate only ROI but, meaning to invest upon the different minds. The different problems of Society should be resolved by different minds ".
Tarun believes that ease of access to technology for a majority of India's population is set to drive the next big opportunity for startups and investors. Enabled by easy access to affordable data packs and low-cost smartphones, more than 500 million Indians, primarily from rural India, are poised to go digital in the next couple of years.
Foxhog's Vision to reach Investors as affordable as reaching the data packs to rural India has become real for the last 3 months, as they have started enabling their Micro branches in rural regions of the Country. With 22 Branches across India Foxhog has enabled easy access of investors for shopkeepers to small business owners, amounts starting from 10 thousand to 10 crores.
In the time of Unicorns, our core Business Place and Community who stays in our Indian villages must get a platform to roll on their talents to the world and this is where Foxhog comes into the place as a bridge.
"Sustaining for 2 years with all ups and downs and fighting with all big bankers and finance sharks in the market has never been easy for me. Listening to the critics and improving myself has been a firecracker for me but that all made me stronger than ever "says Tarun Poddar.
Foxhog has been operating in India for more than 2 years and has closed its last quarter for INR 135 Crores having more than 22 branches with the strengths of more than 350 Employees Across 6 Countries and more than 62 Portfolio Companies where they have invested and a few of them has also been acquired, their focus towards tier 2 cities for Rural Indian and the Initiation of helping Women Entrepreneurs will be proved as a milestone.
Foxhog is also looking to expand in Europe using its newly opened Branch in Frankfurt Germany. The company also plans to expand its lending division in different rural areas of the country by opening Customer Service Point. 
Group Media Publication
Construction, Infrastructure and Mining   
General News Platforms – IHTLive.com
Entertainment News Platforms – https://anyflix.in/
Legal and Laws News Platforms – https://legalmatters.in/
Podcast Platforms – https://anyfm.in/