Views: 147
Read Time:
2 Minute, 14 Second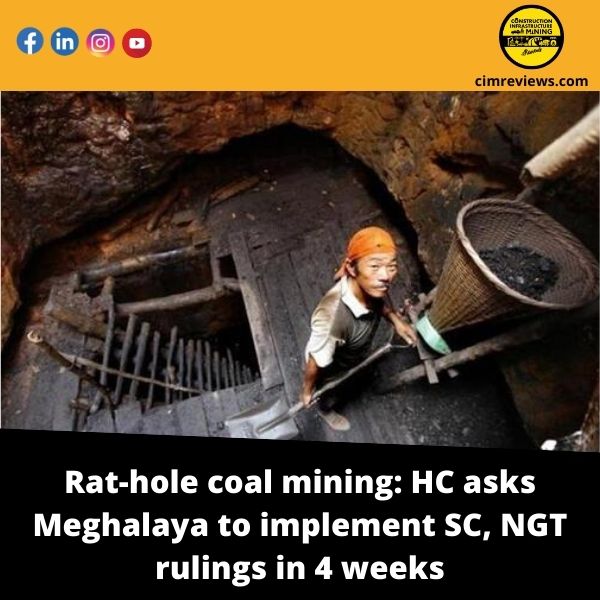 GUWAHATI: The Meghalaya high court has ordered the state government to follow the National Green Tribunal's (NGT) and Supreme Court's (SC) directions on illegal rat-hole coal mining within four weeks.
One of the SC orders was to allow the selling of coal that had already been mined from mines previous to the NGT's 2014 prohibition on rat-hole mining of coal in Meghalaya. It was then discovered that several people utilised this instruction as a loophole to remove fresh coal and claim it was mined prior to the NGT order of 2014.
A high court bench comprised of chief justice Sanjib Banerjee and justices HS Thangkhiew and W Diengdoh stated in a decision published on May 24 that "none of the orders given by the Hon'ble Supreme Court…and the NGT have been complied with by the pertinent authorities."
The order came after the filing of a preliminary report by retired Justice BP Katakey, which found non-compliance with the NGT and SC orders on the matter. Following a newspaper article, the high court took suo motu care of the situation and assigned justice Katakey to investigate and make recommendations in April of this year.
The authorities listed in the justice system Meghalaya's government, state and federal pollution control boards, the North Eastern Space Application Centre, and the regional office of the union ministry of environment, forest, and climate change were named in Katakey's report for noncompliance with NGT and SC instructions.
"It is regrettable that orders passed by the Supreme Court and the National Green Tribunal continue to be violated and the directions issued are not implemented…all relevant authorities should get their acts in order and ensure complete implementation of the directions within four weeks from date," the high court order stated.
The court ruled that Justice Katakey will continue to oversee the suggestions' execution. It further ordered that copies of Justice Katakey's report be given to the Centre and the Meghalaya government for responses on compliance with the orders. The case will be reheard on June 21.
Rat-hole mining is a risky method of extracting coal that involves excavating narrow vertical tunnels into the earth. Because the majority of these tunnels are dug without following norms, they endanger workers. In December 2018, 15 miners died after becoming trapped in one of these mines in Meghalaya.
In 2019, Justice Katakey, who led an NGT committee on the topic, offered many suggestions to regulate rat-hole coal mining in Meghalaya. The proposals served as the foundation for the Supreme Court's decision on the subject in July 2019.
Construction, Infrastructure & Mining Group Media Publications
https://anyflix.in/, https://legalmatters.in/ & https://ihtlive.com/