Views: 239
Read Time:
2 Minute, 11 Second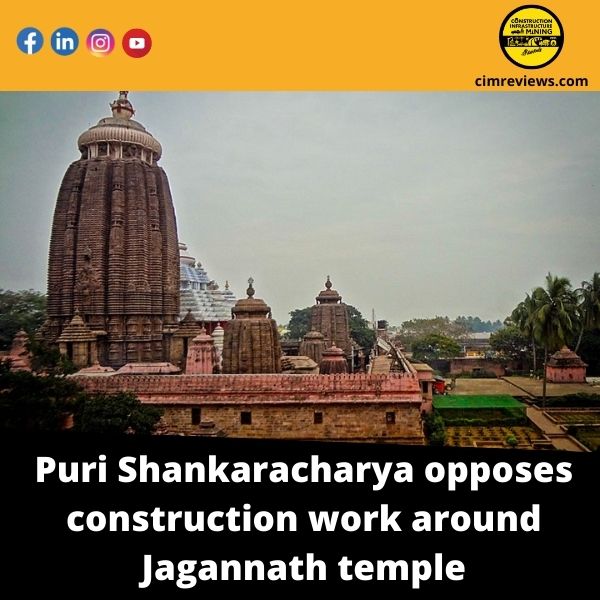 BHUBANESWAR: Comparing the construction work around the 12th century Jagannath temple to a path of destruction, Puri Shankaracharya Swami Nischalananda Saraswati said on Wednesday that the temple town will soon lose its lustre if the administration continues to ruin things and turn it into a picnic spot or exhibition centre in the name of development.
Raising concerns over the current development around the Jagannath temple, Saraswati stated that while he supports progress, he does not want the heritage monument to lose its uniqueness and be destroyed in the name of development. "Mutts are being demolished in the name of road widening, which is unacceptable," Shankaracharya stated, appealing to Prime Minister Narendra Modi and Chief Minister Naveen Patnaik.
He stated that the administration should not consider itself all-powerful because of its public mandate. "The people of Odisha have enough faith in this government." However, people's opinions may change. Puri is the pilgrimage capital, but the government should not convert it to a Bhogobhumi. Any practises that taint Lord Jagannath's holy order may cause difficulty for the state," he warned.
In support of Shankaracharya, BJP spokesperson Jatin Mohanty stated that the state government should not break any laws. Because the project has not received approval from the Archaeological Survey of India (ASI) or the National Monuments Authority, the government should halt development for the time being and restart work only after acquiring the necessary clearance. The Odisha government should also make the project's blueprint public beforehand. "The government should let archaeologists, engineers, environmentalists, and technical specialists to weigh in on the project," said a BJP spokesperson, who demanded a full technical study of the temple.
Arya Kumar Gyanendra, a Congress leader, said that the government violated ten rules by building near the shrine. "We ask everyone to support the Puri Shankaracharya's decisions." "We are not opposed to development projects, but they must not breach any criteria," he stated.
However, Biju Janata Dal (BJD) spokesperson Lenin Mohanty stated that the idea was first kept public in order to solicit feedback from individuals and organisations. "In December 2019, chief minister Naveen Patnaik presented the project, which aims to transform Puri into an international heritage site."
The Odisha administration then decided to present the idea to the legislative assembly in February 2020, where it was unanimously approved by all MLAs. Following this, the Shree Jagannath Temple Administration accepted the project's architectural design plan at a cost of Rs 3,200 crore," said a BJD spokeswoman.
"It is anticipated that everyone will support the Srimandir Parikrama Project as the monsoons and Rath Yatra approach," he added.