Views: 155
Read Time:
5 Minute, 42 Second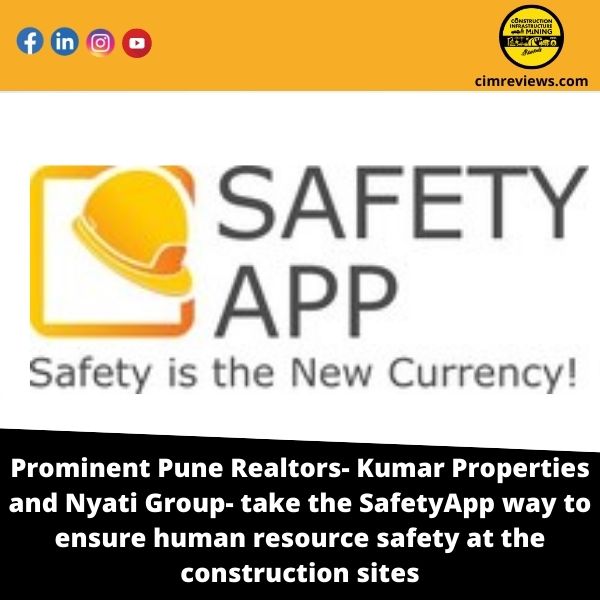 PUNE, India, June 1, 2022 — Kumar Properties and Nyati Group have chosen VAST SafetyApp, a mobile-based safety platform that enables safety compliance and risk reduction at construction sites, to implement at a total of 30+ projects. SafetyApp, a VAST (Valueadd Softtech Pvt. Ltd.) incubated application, will be utilised to perform hazard identification and risk assessment (HIRA) and get visibility across many sites using digital procedures and workflows. The App allows users to report potential risks, safety violations, and non-conformities in seconds, allowing construction businesses to take proactive measures, which was previously a major difficulty in the industry.
The risk of death and personal injury in the construction sector is significantly higher, and it is likely one of the top five industries most vulnerable to such dangers. As a result, the industry think tank should focus on steps to safeguard the safety of this industry's personnel. This is where SafetyApp comes in, ensuring seamless workflows that can be tracked for overall improvement in the construction industry's quality and quantity of output. In the 4th edition of Maharashtra Start-up Week, Maharashtra State Innovation Society picked SatefyApp as one of the top 100 start-ups.
"Kumar Properties has teamed with VAST SafetyApp in order to better understand how we can improve our safety response in terms of data gathering and assure a proactive approach." The necessity of safety is continuously increasing as the number of construction-related incidents rises across the country. It is increasingly critical that construction workers, particularly migrant labourers, receive sufficient training. We hope to raise awareness among construction employees about our vision for construction and the company's EHS initiatives by deploying technology at job sites. We must continue to gather a large amount of data linked to labour compliances, such as name, PF number, BOCW registration, and so on, in order to comply with statutory legislation. We think SafetyApp has a lot of potential for collecting data and providing an overall dashboard. SafetyApp aids in the issuance of electronic work licences, the raising and monitoring of NCs to contractors, and the capture of unsafe acts and unsafe conditions, all of which contribute to a safer workplace. We're collaborating with Team SafetyApp to improve some of the features to meet the needs of the construction sector. We find SafetyApp to be an ideal tool for accomplishing all of these tasks with minimal effort, and it is assisting us in meeting our goal of protecting our construction sites from accidents and fatal incidents while remaining compliant with government mandated procedures and filings," says Rohit Sardesai, Vice President at Kumar Properties.
With over 35,000 satisfied and happy families living in their 135 finished properties, Kumar Properties Group has been a well-established, value-driven firm since 1966 and is one of the leading players in Pune's real estate sector. Kumar Properties has implemented SafetyApp in their ongoing projects in Pune and Bengaluru.
VAST SafetyApp was also used by Nyati Group in all of their projects. Nyati Group and VAST began working together a few years ago when Nyati Group implemented VAST ClientCare, a Post-Sales Real Estate CRM, to manage their customer experience.
"We want to be the First Choice for all of our clients, customers, vendors, contractors, and staff at Nyati Group. Only by consistently upgrading our mindsets, technology skill sets, and having extremely strong value-based commitments can we do this. With this in mind, we partnered with ValueAdd Softtech & Systems Pvt. Ltd. to deploy the Nyati Instacare and Nyati Safety apps, which we have found to be really useful. Our goal with the Nyati Safety App has been to ensure a safe working environment on construction sites "Colonel (Retd) Ganesh Sirsikar, VP of Nyati Group, agrees.
So far, 31521 inductions, 149957 work permits, 158845 toolbox trainings, 1310 non-conformities, and safety observations have been recorded and resolved using Nyati SafetyApp, which has been deployed at 33 projects throughout 12 Zones.
Valueadd Softtech & Systems Pvt Ltd (VAST), Pune, has developed SafetyApp. VAST has been at the forefront of SafetyApp's conception, design, and development. "The construction industry is one of the most risk-prone industries, pushing for a deeper digital penetration for improved supervision of activities and application of systemic protections," says VAST CEO Prashant Upasani, a civil engineer by training. To ensure consistent quality results and greater safety requirements in the business, the industry's primarily untrained staff must be effectively taught.
We recognised this need when building the SafetyApp, and we've incorporated a number of features along the way, all of which are in accordance with the needs of builders and industry professionals. We're collaborating with industry professionals and authorities to make the SafetyAPP synonymous with BOCW and safety standards."
When it comes to the association, Kaushik Markale, Product Manager at SafetyApp, is optimistic about the digital solution's ability to provide a variety of solutions to the construction industry. He declares, "SafetyApp was created in response to the construction industry's numerous issues. It replaces manual recording and monitoring of work processes with data accessibility across the board, allowing for proactive and timely response on construction sites.
SafetyApp users may take use of the technology, stay on the right side of the law, and save lives and money. SafetyApp has what it takes to meet the difficulties of the construction sector, with unique safety features, an easy interface, and a strong service that provides 24/7 reliability."
SAFETYAPP INTRODUCTION
VAST is the incubator for the VAST SafetyApp. VAST SafetyApp is a first-of-its-kind construction app designed to improve productivity and safety at various building sites. It has unique features that allow for real-time monitoring and oversight of all site operations. It provides cross-site visibility, as well as convenient communication and monitoring of RFIs. It allows for a complete understanding of process with precise deadlines, headcount, and accountability levels.
INTRODUCTION TO KUMAR PROPERTIES
Kumar Properties Group, founded in 1966, is a well-diversified, value-driven company that has grown to become one of Pune's leading real estate firms. The Group has become known for providing complete solutions to its clients, having completed over a hundred residential and commercial projects. Kumar Properties has partnered with SafetyApp to improve the quality of its construction operations and protect its employees from the risks and dangers that come with the job.
INTRODUCTION TO THE NYATI GROUP
NYATI GROUP is one of the most well-known real estate organisations in Pune, with a number of significant residential and commercial construction projects. The Group, which has a full-fledged Sales and Marketing Office in Dubai to serve the Indian Diaspora, is focused on influencing lifestyles, with a particular emphasis on design and innovation in the building business.
Construction, Infrastructure & Mining Group Media Publications
https://anyflix.in/, https://legalmatters.in/ & https://ihtlive.com/