Views: 169
Read Time:
1 Minute, 24 Second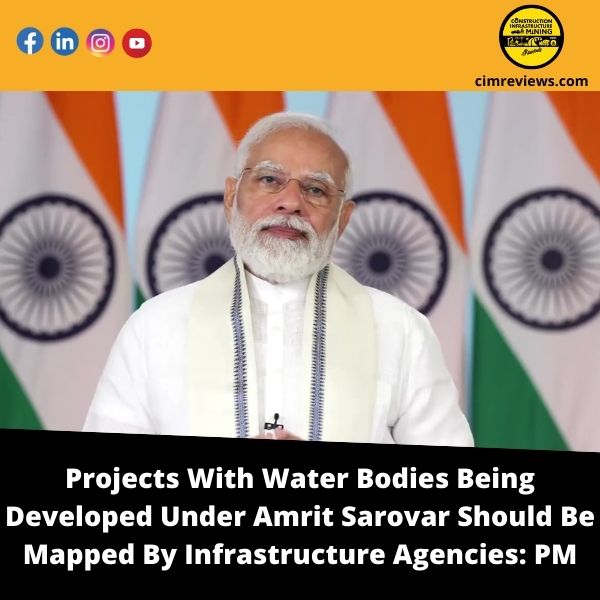 New Delhi: Prime Minister Narendra Modi said on Wednesday that infrastructure agencies such as highways and railways should coordinate their initiatives with the water bodies being constructed under Amrit Sarovar.
"This would be a win-win situation because the material excavated for the Amrit Sarovars may be used for civil works by the agencies," he explained. The Prime Minister was presiding over the 40th edition of PRAGATI, an ICT-based multi-modal platform for 'Pro-Active Governance and Timely Implementation, including the Centre and State governments.'
The meeting took up nine topics for review, including eight projects and one programme. The Ministry of Railways, Ministry of Road Transport and Highways, and Ministry of Petroleum and Natural Gas each had two projects, while the Ministry of Power and the Department of Water Resources, River Development, and Ganga Rejuvenation each had one. These eight projects, totaling over Rs 59,900 crore, are spread over 14 states: Maharashtra, Karnataka, Andhra Pradesh, Tamil Nadu, Chhattisgarh, Odisha, Assam, Arunachal Pradesh, Meghalaya, Tripura, Mizoram, Nagaland, Sikkim, and Jharkhand.
The Prime Minister also discussed the 'National Broadband Mission' programme during the meeting. Modi advised states and agencies to use the centralised 'Gati Shakti Sanchar Portal' to ensure timely payments.
"States may also develop a state-level Gati Shakti Master Plan along the lines of the PM Gati Shakti National Master Plan, and state-level entities may be established for this purpose." This can help with improved planning, identifying and addressing important concerns, and guaranteeing better coordination for timely project execution," Modi said.
311 projects with a total cost of Rs 14.82 lakh crore have been examined in 39 PRAGATI meetings.