Views: 211
Read Time:
12 Minute, 30 Second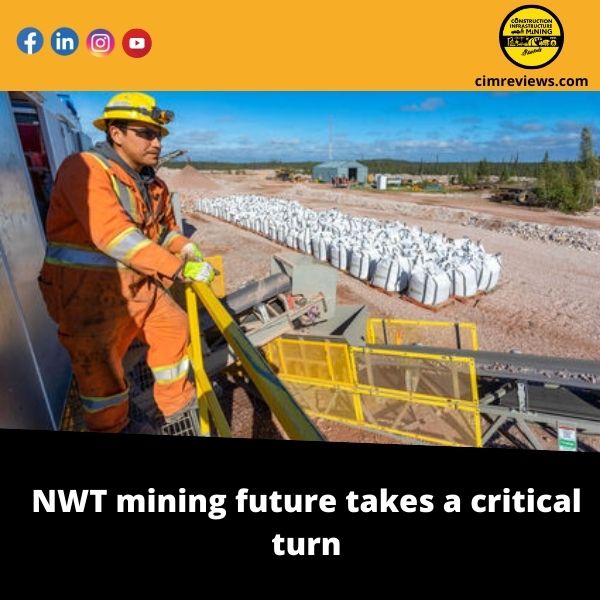 With the delivery of rare earths from the Nechalacho Mine into the supply chain, a new crucial chapter in the history of mining in the Northwest Territories has begun. This is a saga that also includes the discovery of world-class diamond deposits in the renowned Lac de Gras region and a gold rush to the territory's capital in the 1930s.
During the Yellowknife Geoscience Forum in November of last year, Caroline Wawzonek, minister of industry, tourism, and investment for the Northwest Territories, remarked, "We have an opportunity to add to our rich and long-standing mining story."
Building on the economic base that the mining of gold, zinc, and diamonds has given the Northwest Territories for almost a century, this North of 60 jurisdiction is now looking to the future, which includes being a trustworthy and responsible source of the bismuth, beryllium, cobalt, copper, gallium, germanium, lithium, nickel, rare earths, tungsten, and other metals necessary for low-carbon energy, electric vehicles, and digital technologies.
Wawzonek stated this during a speech on June 17 at the Arctic Development Expo in Inuvik, Northwest Territories. "From our origins in base metals like zinc, lead, and gold, we advanced to being the birthplace of ethically sourced diamonds in the 1990s," he continued.
The International Energy Agency predicts that in order to construct the electric vehicle and renewable energy infrastructure required to meet the global climate goals, the annual supplies of minerals and metals feeding the expanding EV and battery storage sectors will need to increase by 30 times between 2020 and 2040.
As a result, business and government are making significant investments to ensure that there are ample, dependable, and ethically mined supplies of the raw materials required to build the renewable energy revolution. The Northwest Territories could contribute by supplying a number of essential minerals and metals.
According to Wawzonek, who spoke to North of 60 Mining News, the vast northern area, which is almost twice the size of Texas, is home to known deposits and occurrences of 23 of 31 minerals that the Canadian government has designated as critical.
In addition to being a trustworthy source of these essential minerals in North America, which are frequently imported from nations like China, the Democratic Republic of the Congo (DRC), and Russia, the NWT's permitting system also makes sure that the minerals mined and processed there adhere to strict environmental, social, and governance standards.
Native involvement throughout the procedure, which enables the First People of the NWT to weigh the advantages and disadvantages of a proposed mining project, distinguishes the NWT permitting system from other systems. It has been said that this procedure, which necessitates an indigenous review board's recommendation before to government approval, lengthens the permission process.
The minister of industry for the NWT, however, argues that having creative participation included right into the process leads to consensus building with locals and an authorised mining project with ESG at its core.
"We are known for our environmental oversight, Indigenous representation in regulatory processes, and the recognition of traditional knowledge. We are world leaders in these measures," she stated. The NWT model; the ESG-I, with its distinctive approach to cooperative and consensus-based legislative development, resource royalty sharing, and socioeconomic and benefit agreements, is actually anchored by the crucial leadership of NWT Indigenous Governments in resource exploration and development in Canada.
The recently built Nechalacho Mine is a working illustration of the benefits the NWT has to offer, both in terms of its potential for rich essential mineral deposits and the strength of the ESG-I model there.
Nechalacho, the first rare earths mine in all of Canada, also has environmental benefits and ties to indigenous businesses in the area, which raise its ESG rating as a supplier of a group of elements vital to electric vehicles, wind turbines, and a wide range of other contemporary industrial and consumer products.
A lot of effort is being put out by the Australian company Vital Metals Ltd., which runs the Nechalacho Mine through its Canadian subsidiary Cheetah Resources Corp., to make sure that as many enterprises and residents of the NWT as possible profit from the rare earths being mined at Nechalacho.
"A project can only be built by a community, just as it takes a village to raise a kid. a group of non-profit organisations, suppliers, and workers who are both indigenous and non-indigenous, "said David Connelly, vice president of strategy and corporate affairs at Cheetah Resources. The Nechalacho rare earth project and the NWT's first rare earth mine would not be possible without this community.
Cheetah thinks its spending with regional companies is "sticky," meaning it results in more advantages for the area. As a result, excluding machinery not produced or sold locally, the corporation purchases about 90% of its goods and services from enterprises in the NWT.
The "sticky dollars" that NWT suppliers receive from the products and services offered at Nechalacho are then used to pay their employees who live in the area, make purchases from other NWT suppliers, pay rent to local landlords, make donations to local charities, and pay municipal, scholastic, and territorial taxes and fees.
In addition to working with as many local companies as possible, Cheetah has set the bar for hiring indigenous people; in 2021, more than 75% of the employees of Nechalacho were members of Canada's First People.
The fact that Det'on Cho Nahanni Construction Ltd., a Northwest Territories-based First Nations company, was hired to perform the mining and earthworks at Nechalacho played a significant role in the ability to attain such a high first-generation hire rate.
According to Yellowknives Dene First Nations Chief Ernest Betsina, "The Yellowknives Dene First Nation is thrilled to be the first Indigenous organisation in Canada to be accountable for resource extraction on their traditional territory." Because they have more control over the process when conducting mining activities, indigenous people are better able to protect the environment.
Nechalacho stands apart from rivals in terms of environmental protection since it is highly high-grade, close to the surface, and requires little processing to generate a concentrated ore product that is ready.
Without the use of water or chemicals, the ore extracted by Det'on Cho Nahanni Construction is simply crushed and sent through an ore sorter that removes the non-mineralized rocks to produce high-grade ore. This concentrated ore is sifted, packed, and sent to Saskatchewan where it is converted into mixed rare earths carbonate.
At its new rare earth extraction facility in Saskatchewan, Vital started feeding the first Nechalacho ore through a thick media separation plant earlier this month.
Since we've been mining rare earths for more than a year, we can now start producing rare earth carbonate, according to Vital Metals Managing Director Geoff Atkins. "Despite the difficulties with supply chains and logistics, Saskatoon is thrilled to have accomplished this milestone.
The Saskatchewan-produced mixed rare earth carbonates will be transported to different facilities for the final separation into the distinct rare earth oxides required for electric vehicle (EV) motors, wind turbine generators, speakers, computer hard drives, medical imaging devices, and a variety of other high-tech devices.
putting NWT at the front of a supply chain that is essential for the switch to low-carbon sources of energy and transportation.
According to Wawzonek, it "sends a signal that Canada is certainly a major player in the worldwide movement toward a sustainable, dependable, sustainably mined source of important rare earth elements independent of China and also of Russia."
The NWT is a sizable and isolated region with a sparse infrastructure for energy and transportation, much like the rest of Canada's North and Alaska. Due to this, it is frequently economically impossible to mine even high-grade deposits, particularly those that yield concentrate that must be transported elsewhere for processing.
The territory anticipates that funding will be included in the federal government's C$3.8 billion (US$3 billion) budget to support Canada's crucial minerals strategy in order to continue its work to close the gap between its abundant mineral resources and the markets that need them.
A recent example of attempts to bring infrastructure closer to the crucial mineral potential of the region is the 97-kilometer (60-mile) Tlicho Highway, which was just finished.
This recently finished project extends road access to within 50 kilometres (30 miles) of Fortune Minerals Ltd.'s NICO cobalt-gold-bismuth-copper project, which will need road access to deliver concentrates to market. The project was funded by a collaboration between the federal, territorial, and Tlicho First Nations governments.
NICO is a project that is close to development stage and contains an unusual blend of critical and precious metals. It is situated approximately 150 road kilometres (95 miles) north of Hay River and the northern end of the rail system in the NWT.
In accordance with a 2020 proposal, a mine at NICO and a related refinery would generate, over the course of the first 14 years of mining, an average of 1,800 metric tonnes of battery-grade cobalt sulphate, 1,700 metric tonnes of bismuth, 300 metric tonnes of copper, and 47,000 oz of gold annually.
NICO is a fascinating opportunity for individuals who desire to see more essential minerals mined and refined in North America due to the variety of metals in NWT.
The majority of the cobalt mined in 2021, nearly 69 percent, came from the Democratic Republic of the Congo, according to an annual minerals report released by the U.S. Geological Survey in February.
In a 2018 analysis on cobalt, USGS stated regarding DRC: "This country has a high-risk rating for doing business due to weak infrastructure, resource nationalism, a high perception of corruption, a lack of transparency, as well as warfare."
Another 6% came from Russia, the second-largest producer in the globe.
Companies who need cobalt for the lithium-ion batteries powering EVs and a variety of products that make the world more convenient and environmentally friendly are put in a difficult situation because of this.
Additionally abundant in NICO, bismuth is a crucial component used to replace lead in non-toxic alloys for water.
However, bismuth is one of the least common elements in the crust of the Earth and is rarely discovered in quantities that may be extracted for economic purposes.
In fact, according to estimates, NICO is home to 12 percent of the world's bismuth reserves, or deposits where the metal can be economically recovered.
NICO provides a combination of metals that are becoming more important in a world that is electric-centric and a financial metal that has historically been viewed as a safe-haven asset in times of economic or political concern.
But NICO needs a way to get concentrates to Fortune's proposed refinery in Alberta and then to the supply chains for renewable energy and other industries that require the metals to be produced.
To enable the trucking of metal concentrates to a railhead south of Great Slave Lake for transport to the imagined Alberta refinery, Fortune intends to build an industrial access road connecting the mine to the new Tlicho Highway.
NWT expects Ottawa to support additional infrastructure building in the territory's vital mineral-rich regions.
"We need strong allies at the federal level and must keep arguing for considerable infrastructure investment if we are to enter the next chapter of our illustrious mining history with our vast vital mineral potential. We shall be able to realise our full economic potential by doing this "said Caroline Cochrane, premier of the Northwest Territories.
A total of C$1.5 billion (US$1.2 billion) of the C$3.8 billion (US$3 billion) federal budget set aside to assist the development of vital minerals across Canada is earmarked for infrastructure investments that will open up new mining projects in priority areas.
flammable metals
The decision by the territory government to sell the Mactung tungsten property to Fireweed Zinc Ltd. for C$15 million (US$11.8 million) was one of the most exciting recent developments in the NWT critical minerals sector.
Mactung, which straddles the NWT-Yukon border, is one of the largest known undeveloped, high-grade tungsten-skarn deposits in the world, with 33 million metric tonnes of indicated resource averaging 0.88 percent tungsten trioxide.
The project's former owner, North American Tungsten, filed for creditor protection before it could develop the mine that would have produced about 6,450 metric tonnes of tungsten annually, despite Mactung's world-class size and grade and being far along in the regulatory process.
The NWT government bought Mactung in 2015 and will begin working on a tungsten mine project in 2020 with a Class 4 Mining Land Use Approval.
Fireweed and the territorial government reached an agreement in June to purchase this advanced tungsten exploration asset, which borders the northeastern edge of Fireweed's Macmillan Pass zinc-lead-silver property.
According to Fireweed CEO Brandon Macdonald, "We now have not just one of the largest untapped zinc resources in the world at our Macmillan Pass Project, but also one of the largest and highest-grade untapped tungsten projects at the advanced stage Mactung Project."
Only one month after staking Gayna River, another NWT project rich in vital minerals, Fireweed has agreed to purchase Mactung.
Around 28,000 metres of drilling were done by Rio Tinto at the highly promising zinc-gallium-germanium-lead-silver Gayna River project, which is located around 180 kilometres north of Mactung.
The business has changed its name to Fireweed Metals Corp. to better reflect the new, essential mineral diversity that Mactung and Gayna River are now providing.
According to Fireweed Metals CEO Macdonald, "Our projects have significant amounts of zinc and tungsten, each with unique supply dynamics and compelling demand growth." "Fireweed is positioned to be a big critical minerals player on the global stage and to assist allow the transition to a sustainable low-carbon economy," according to the declaration that both zinc and tungsten are important minerals by Canada, the US, and the EU.
The agreement with Fireweed, according to the territorial government, adds a new page to the next chapter of the NWT's mining saga, one in which the territory in northern Canada serves as a dependable and responsible supplier of the essential minerals needed to create a technologically advanced future powered by low-carbon energy.
"The NWT is a dynamic region with a wealth of opportunity. We are seeking fresh collaborations in a range of projects and development fields, "Wawzonek remarked. "We are hoping to welcome like-minded investors and partners as we continue to expand on our strengths and best practises. We are prepared to raise the bar once more and are perhaps in the greatest position of any jurisdiction to do so right now."
Construction, Infrastructure and Mining   Group Media Publication
General News Platforms – IHTLive.com
Entertainment News Platforms – https://anyflix.in/
Legal and Laws News Platforms – https://legalmatters.in/
Podcast Platforms – https://anyfm.in/