Views: 253
Read Time:
2 Minute, 25 Second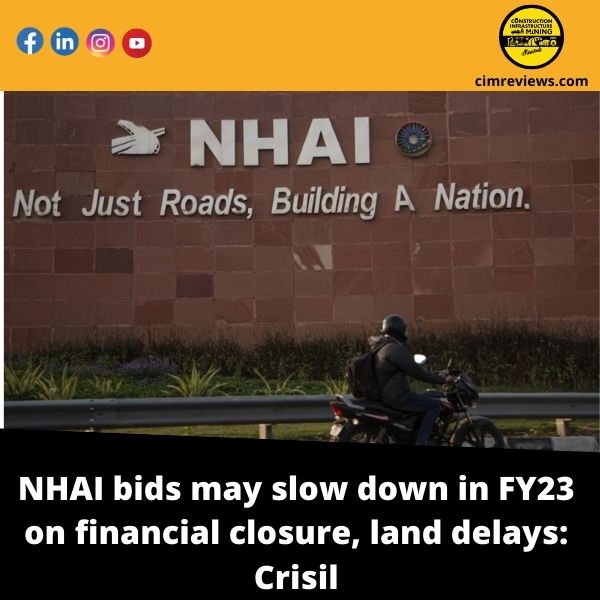 Crisil Research has identified a number of challenges plaguing the National Roads Authority of India's (NHAI) national highways projects, including delays in financial closing and land acquisition, among others. According to a research paper released today by the agency, contract awards by the authority may stall to 5,000 km yearly in FY23 and FY24.
"National Highways Authority of India (NHAI) awarding may decelerate to 5,000 km yearly during this fiscal and the next," says Crisil, following a sequential increase from 2,222 km in fiscal 2019 to 6,306 km in fiscal 2022.
The agency explains the expected delay in project award to a limited increase in budgetary support combined with greater expenditure for 70% of high-value expressways now under development. According to Crisil, these two issues could push NHAI grants under Bharatmala Phase 1 beyond fiscal 2024, the year work was initially slated to be finished.
"Approximately 40% of detailed project report-ready projects under Bharatmala Phase 1 have yet to be awarded," according to the study note.
The Bharatmala project is an ambitious 5,35,000 crore plan that began in October 2017 to develop a national highway network and 34,800 kilometre sub-networks (kms). According to data from the transport ministry, just 8,134 km of the project length has been built so far, accounting for less than 25% of the total length.
The agency also expressed concerns about projects based on the hybrid annuity model (HAM) of highway construction, which has been in operation for a few years. The traffic risk is not shared by the developer under HAM, who receives a cash construction support of 40%, with the remaining 60% debt-equity investment recovered from the government in the form of semi-annual annuity payments.
Despite the benefits of HAM, awards under this mechanism have had their share of difficulties.
Only 56% of projects granted from fiscal years 2016 to 2018 have been finished, while 37% are still under development. "90% of the HAM awards in fiscal years 2019 and 2020 are still under construction," adds Crisil.
"Financial closures are taking 3-4 months to complete." More importantly, 40% of projects have received appointed dates 1.5 years after awarding, showing that land acquisition challenges continue. While HAM has automatic de-scoping and de-linking measures that protect projects from being stranded in the under-construction phase, delays for these approvals have been recorded, according to the Crisil report.
"A few execution issues have also surfaced." "Despite the fact that 75 percent of projects were given to significant players from fiscal years 2016 to 2020, one-fourth of the projects have been delayed by two years beyond their original anticipated commercial operations date, with just 55 percent physical progress," the report says.
Construction, Infrastructure & Mining Group Media Publications
https://anyflix.in/, https://legalmatters.in/ & https://ihtlive.com/