Views: 192
Read Time:
4 Minute, 1 Second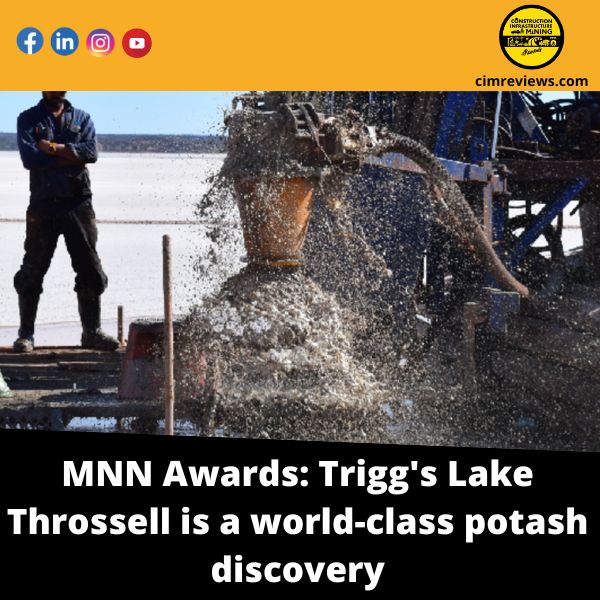 The essential agricultural inputs, which you can probably find in your own garden shed, might not seem to belong in the mining sector, but the manufacturing method isn't all that dissimilar from the lithium brine extraction that resource investors adore.
That's possibly the reason Trigg Mining's Lake Throssell brine discovery in Western Australia's Laverton region has gone a little unnoticed.
The public commissioning problems experienced by industry pioneers Salt Lake Potash and Kalium Lakes do little to improve the market's view.
However, if you run the numbers right now, Trigg is sitting on the equivalent of about nine million ounces of gold and has only invested A$3 million to define it. This works out to discovery costs of about 35c/oz, which is significantly less than the average claimed in the Australian gold market of $15–20/oz and significantly less than the gold industry average of around $60/oz.
Using the current pricing for sulphate of potash, which is US$1100/t, if the 14.4 million tonne Lake Throssell deposit, grading 4665 milligrammes per litre, were extracted and sold today, it would result in sales of $15.8 billion.
With an ounce of gold costing $1840, you would require 8.6 million ounces to make the same amount of money.
Keren Paterson, managing director of Trigg, told MNN that she was incredibly happy of all the work that the junior has done so far as it prepares to transition from being a pure explorer to a producer.
We've only just started the story of this amazing finding, she said.
The explorer made its debut in 2019 and started its first drilling at Lake Rason after an unsuccessful attempt to list in 2018, when it was suggested Trigg was too late to take advantage of the potash boom.
It was successful right away, intersecting promising brines, but it was also negotiating Lake Throssell access with the Ngaanyatjarra aboriginal title owners at the same time.
The location had never been investigated previously, but the salt lake appeared to hold great potential.
According to Paterson, Trigg was able to obtain and conduct hand auger sampling of the surficial sediments after access was allowed and heritage clearances were completed.
Although the excellent findings were quite encouraging, Paterson recalls that "it was Christmas, and nobody really noticed."
Since the middle of 2021, it has finished RAB and aircore tests down to around 6 metres.
When the gravity data were included, it became evident that Lake Throssell was one of Australia's highest-grade SOP projects.
Within 18 months, the company supplied a scoping study, inferred and indicated resources, and those.
Paterson claimed that at that point it became obvious that Lake Throssell, one of the biggest developments ever built, may be a top-tier production possibility.
The remaining 60% of the lake needs to be tested, and Lake Yeo, which is significantly bigger and is located in the same paleochannel, is even more intriguing.
The Lake Throssell will be developed as soon as possible.
When Paterson first began to consider Trigg as a jobless mining engineer in 2014, she said her objective was always to create a mining company.
When considering why she got into mining, she said, "I realised I wanted to build something that I could be proud of.
Instead of going in search of potash, she was introduced to the original tenement vendors by Trigg and given a crash course in brines, evaporation, and the fertiliser industry.
Success came after, and since May 2021, Lake Throssell has been the main emphasis.
We have something that is extremely long and narrow, making it perfect for infrastructure, the woman explained.
It's a thrilling discovery for me as an engineer.
"And we can get knowledge from those who came before us."
Prefeasibility research is being done.
Trigg wants to start building by the middle of the decade with the goal of producing 245,000 tpa of potash over a 21-year period, as well as other byproducts like magnesium.
The project's estimated all-in sustaining costs are only $372/t, with a projected development cost of A$412 million. The scoping study used a price of US$550/t, however due to production problems in China and the Ukraine, the commodity has recently been trading at double that level.
There is still Lake Yeo to offer upside, and almost half of the lake has not yet been drilled.
All of Australia's potash fertilisers are imported, but Paterson claims there is a ready domestic market.
"We need fertilisers because we are putting additional demands on our agricultural land. The demand is undeniable."
Group Media Publication
Construction, Infrastructure and Mining
General News Platforms – IHTLive.com
Entertainment News Platforms – https://anyflix.in/
Legal and Laws News Platforms – https://legalmatters.in/
Podcast Platforms – https://anyfm.in/