Views: 218
Read Time:
2 Minute, 10 Second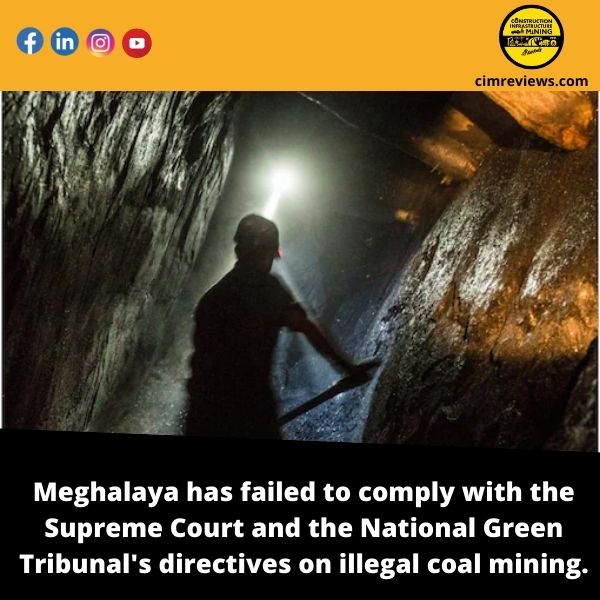 A preliminary report submitted by Justice (Retd) BP Katakey has revealed that authorities in Meghalaya have failed to comply with Supreme Court and National Green Tribunal (NGT) orders to stop illicit coal mining.
The preliminary findings in the 41-page report dated May 23, 2022 indicated that, with the exception of notifying The Meghalaya Minerals (Prevention of Illegal Mining, Transportation, and Storage) Rules, 2022 on March 24, 2022, none of the directions issued by the Hon'ble Supreme Court and the NGT had been followed by the concerned authorities.
The details of the noncompliance have been highlighted in the preliminary results. Furthermore, the report includes recommendations in point form to assure the implementation of the pending directions, so that the competent agencies can deal with the various elements.
The report was presented to the full bench of the Meghalaya High Court on Tuesday during a hearing on a PIL here. The Court has selected Justice BP Katakey to lead a committee charged with suggesting steps to be done by the state in accordance with the Supreme Court and NGT orders, including the selling of already produced coal.
The court expressed sadness that rulings passed by the Supreme Court and the NGT are still being violated and directions are not being followed, and directed that the suggestions made in the preliminary report dated May 23, 2022 be immediately taken note of and the relevant matters rectified.
It is made clear that the time for implementing the outstanding directions will be counted from the relevant dates when such directions were issued, not from today or the date of institution of the current suo motu proceedings, it said while directing all relevant authorities to get their acts in order and ensure the complete implementation of the directions within four weeks from date.
The court further requested that Justice Katakey continue to monitor the execution of the recommendations, including the Supreme Court's and the NGT's outstanding judgments and instructions. Justice Katakey will make occasional visits to Shillong for this purpose, which will be enabled by the State government. It was suggested that a secretary-level member of the State's civil service be assigned to Justice Katakey to help with the monitoring task.
It stated that a copy of the preliminary report, along with the accompanying materials, will be provided to the Union through the office of the Assistant Solicitor-General attached to this Court. Meanwhile, the court directed all agencies to respond individually to indicate the extent to which the outstanding directives have been followed. The next hearing is scheduled for June 21.