Views: 224
Read Time:
2 Minute, 48 Second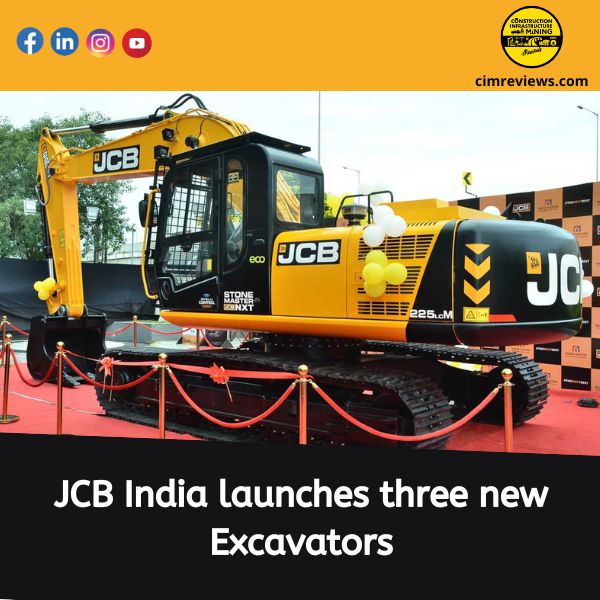 At Udaipur, JCB unveiled three new excavators for applications in infrastructure and mining and quarrying. These machines will be produced in the cutting-edge facility of JCB India in Pune and sold to clients not only in India but also in international markets.
The JCBNXT 225LC M, JCB315LC HD, and JCB385LC are part of the brand-new series referred to as the Premium Line. These devices are made for the most demanding applications in India's harsh and demanding operating conditions. They may operate quarries, mines, and undertake extensive earthwork applications. At Rajsamand, JCB NXT 225 LC was on display.
"India is likely to be a growth driver for the world in the next decades, and much of this growth will come from infrastructure development in the country," said Deepak Shetty, CEO and MD of JCB India. Projects of Significant National Importance are progressing across the nation with positive momentum. This new line of excavators fills the requirement for larger, more productive equipment needed for large-scale infrastructure projects. Greater opportunities will be created in the future by projects like Bharatmala, Sagarmala, new ports, and logistic hubs.
The Heavy-Duty Dig-End of the 22.5 Tonne JCBNXT 225LC M provides the Next Level of durability for greater uptime and decreased repair costs. The equipment is propelled by a Cummins inline fuel injection engine with 148 horsepower and 626 Nm of torque. The ease of maintenance and repairs is substantially aided by its sturdy gasoline system.
"We have always innovated for the benefit of our clients in our history of being in India for more than four decades," Shetty continued. Our clients' requests for a reliable fuel system led to the development of the JCB NXT 225LC M. This device will produce greater productivity and equipment uptime under challenging site conditions.
There are 10 operating modes enabled by Intellicontrol System, and they can be chosen based on the kind of application. Fuel savings of up to Rs. 1.7 Lacs per year are provided by the EcoHydraulics and Intellicontrol systems, which help to improve fuel efficiency. The machine includes a Power Boost feature and a 1.05 cu.m. Heavy Duty bucket with an increase of 5% in output and lift capability for quicker project completion.
Due to its prolonged service intervals of 500 hours for engine oil and 5,000 hours for hydraulic oil, the JCB NXT 225LC M requires less maintenance. This is a new kind of "intelligent" device with "InelliControl & Advanced LiveLink 4" for user-friendliness, remote monitoring, & safety. To guarantee high uptime, Intellicontrol keeps an eye on the machine's maintenance and operation parameters. It assists operators in making decisions based on empirical evidence by providing feedback on performance in real time. For the comfort of the operator, the equipment comes equipped with air conditioning.
JCB's cutting-edge Telematics Technology provides real-time updates on the Service, Operations, and Security of the Machines through Livelink. Real-time updates are given to customers and dealers for more than 210,000 JCB machines.
In India, JCB India has more than 60 dealers. For expert product assistance, these dealerships employ over 6500 service engineers.
Group Media Publication
Construction, Infrastructure and Mining
General News Platforms – IHTLive.com
Entertainment News Platforms – https://anyflix.in/
Legal and Laws News Platforms – https://legalmatters.in/
Podcast Platforms – https://anyfm.in/