Views: 226
Read Time:
3 Minute, 1 Second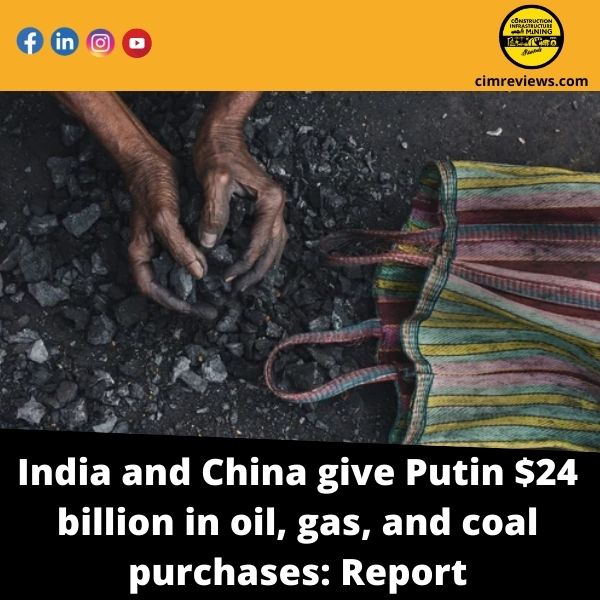 In just three months after its invasion of Ukraine, Russia has made $24 billion from selling energy to China and India, demonstrating how higher global prices are thwarting efforts by the US and Europe to penalise President Vladimir Putin.
According to the most recent customs data, China spent $18.9 billion for Russian oil, gas, and coal in the three months ending in May, almost twice as much as in the same period last year. India spent $5.1 billion during the same time period, which is more than five times what it did a year earlier. Comparing the same months in 2021 to the current period, both countries' combined revenue increased by $13 billion.
The increased spending is assisting in making up for lower purchases made by the US and certain other countries as retaliation against Russia for the war. The bans have pushed up the cost of substitute supplies and sparked debilitating inflation, which poses a risk of putting major economies into recession.
According to Lauri Myllyvirta, principal analyst at the Centre for Research on Energy and Clean Air, who has been monitoring Russian energy flows since the start of the conflict, "China is already purchasing basically everything that Russia can export via pipelines and Pacific ports." The majority of the cargoes leaving the Atlantic that Europe no longer wants have been purchased by India.
Even taking into account the substantial discounts to global benchmarks Russia is offering to encourage buyers, the binge is unlikely to come to a stop anytime soon because energy prices are far higher than they were at this time last year. China's imports continued to slowly increase in volume in June, while India may be prompted to increase purchases even more in the upcoming months as a European Union ban on Russian oil goes into effect, according to Myllyvirta.
According to Myllyvirta's analysis, China and India continue to lag behind Europe as a whole in terms of overall sales this year. However, when import restrictions on coal and oil take effect and as Russia interrupts gas supplies to select European clients, Europe's imports will continue to decline.
Russia has long-standing economic and geopolitical links with China and India, and along with offering large price cuts is also taking payments in local currency to assist keep trade flows to the countries strong this year.
China is the largest energy importer in the world and has specific pipelines for Siberian gas and oil. Despite the fact that its energy usage was reduced over the first half of 2022—partly as a result of Covid-19 lockdowns—it spent much more on Russian energy as a result of increased costs and modest volume increases.
Given that India doesn't share a land border with Russia and that its ports are typically too far away for shipments to be cost-effective, its increase in spending after the war has been far more substantial. According to Bloomberg ship-tracking data, India has purchased three cargoes of Russian liquefied natural gas since the war started, compared to one during the same period last year, in addition to significant increases in the imports of oil and coal.
According to Wei Cheong Ho, a Rystad Energy analyst, "India has historically taken very little Russian oil, but the crisis in Ukraine and the European Union's embargo on Russian-origin oil have led to a rebalancing in oil trade flows."
Group Media Publication
Construction, Infrastructure and Mining
General News Platforms – IHTLive.com
Entertainment News Platforms – https://anyflix.in/
Legal and Laws News Platforms – https://legalmatters.in/
Podcast Platforms – https://anyfm.in/