Views: 219
Read Time:
3 Minute, 23 Second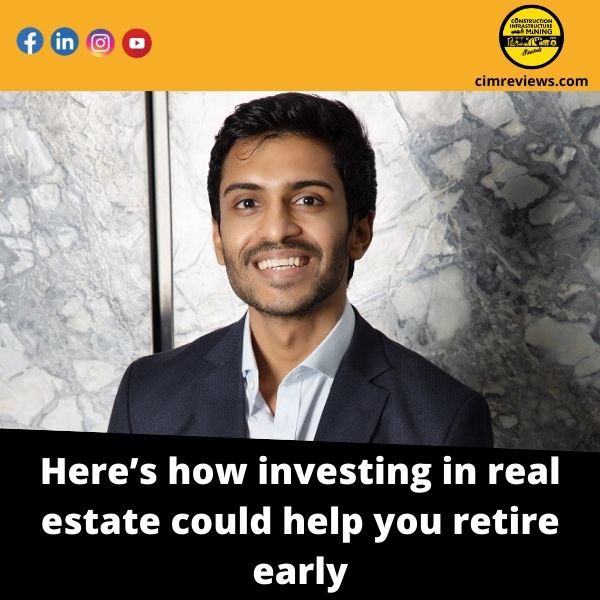 One of the few investment vehicles that has been around since the beginning of time is real estate investment. From ancient to modern times, possessing enormous tracts of land was a sign of strength and superiority. Real estate is a dependable and tried-and-true investment option in a time when there are other investment options available, including mutual funds, gold, Bitcoin, ETFs, debt funds, and so on. Here are some ways that real estate investment might put you in a secure financial position and enable you to retire earlier.
begin early
If you want to retire early, you need to start making plans for it as soon as possible. You must begin investing as soon as you start receiving income. If you recently started a job, seek for nearby real estate investment opportunities and make an investment as soon as you have a sizeable chunk of money. You are in your prime, the liabilities are essentially nonexistent, and there are no obligations to your family.
Decide on the type of property you want to invest in when you are making your first real estate investment. Investing in a piece of land would be more prudent if a long-term time horizon and potential for appreciation were taken into account.
There won't be any maintenance fees because the property tract's worth doesn't diminish over time. This results in a less burden and a higher chance of appreciation. The land tract you purchased when you were young would be a valuable asset if you intended to retire in your 40s.
Reduce your debt
When you intend to retire early, you will need to make some difficult financial decisions early in your life. It would be wiser to preserve the money and invest in real estate rather than taking out a tonne of credit cards and spending extravagantly by taking out a tonne of personal loans.
Real estate investing does not usually entail purchasing a house or a plot of land. One can start with a small amount and build it using a Systematic Investment Plan thanks to the development of cutting-edge real estate instruments like Real Estate Investment Trusts (REITs) and fractional investment alternatives (SIP). By making an investment in such instruments, you can build wealth that will last till retirement without feeling burdened.
Aim to build rental properties
It would be more easy for you to retire early if you had more rental properties. You must make investments in homes with a high rental yield when your income increases. Having a suitable location is crucial when choosing the houses for rental revenue.
Since you've made the decision to retire early, a number of rental properties will enable you to maintain a steady income stream once you stop working. Do your homework and avoid making emotional investments.
Invest again in upkeep
A built-in apartment or a duplex will lose value over time if you choose them. You must make an effort to maintain your properties functional. Regular upkeep and repairs will extend the property's rental life and enhance your income. If you take care of the maintenance aspect, your real estate assets will last longer. You can keep up both the flow of money and the quality of the property by selecting the ideal and long-term tenant.
Despite thorough investigation, a property may not always turn out to be as profitable or rent-producing as it once appeared to be. In such circumstances, be prepared to sell the property, possibly at a loss, and reinvest your money elsewhere. Planning your early retirement income will be much easier if you are willing to make adjustments to your investing strategy.
In conclusion, early retirement necessitates a head start, effective preparation, and effective execution. You might very well enjoy your early retirement on a property income if all goes according to plan.
Construction, Infrastructure and Mining Group Media Publication
General News Platforms – IHTLive.com
Entertainment News Platforms – https://anyflix.in/
Legal and Laws News Platforms – https://legalmatters.in/
Podcast Platforms – https://anyfm.in/