Views: 232
Read Time:
2 Minute, 49 Second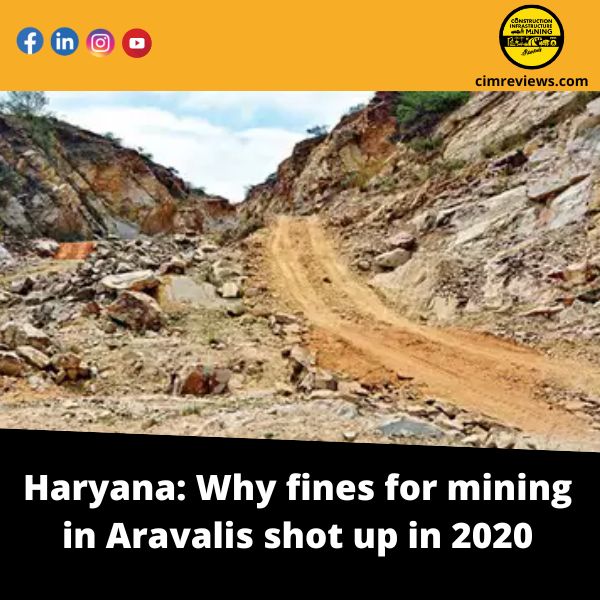 While the government was able to recover Rs 10.7 lakh in fines in 2018–19, in 2020–21, unlicensed miners took advantage of lax enforcement during the epidemic, driving the total to a staggering Rs 8.2 crore. The mining department made a profit of Rs 2.5 crore and Rs 29.7 lakh during 2021 and 2022, as of July.
Officials concurred that during the lockdown months of 2020, when illegal mining rose significantly, there was a lapse in vigilance. Yes, because our security teams were less active during the pandemic, unlawful mining reached dangerously high levels. However, we quickly stepped up our vigilance and fined anyone discovered mining in the Aravalis in the two districts.
Our personnel have been diligently doing inspections and keeping an eye on the Aravalis for some time now," a senior official in the mining department stated.
Before the Supreme Court issued a general ban on it in 2009, the eco-sensitive Aravali ranges in Gurugram, Faridabad, and Nuh were mined for building materials for decades.
However, there have been some areas of the mountains where mining has continued. The Aravalli Bachao Citizens Movement has filed a case at the National Green Tribunal (NGT) alleging that mining was out of control in at least 16 places.
According to findings of a Supreme Court-appointed commission in 2018, the detrimental effects of mining were also evident in Rajasthan, a neighbouring state, where 31 out of 128 hills in the Aravali region perished over a 50-year period due to quarrying.
The Haryana State Pollution Control Board (HSPCB), the governments of Gurugram, Faridabad, and Nuh, as well as the NGT, were given instructions on May 23 to form a joint committee and conduct inspections in the Aravalis for nearly a month. In three months, the committee must submit a report.
The government not only levied fines but also seized several trucks used to transport the excavated stones. In Gurugram alone, 189 automobiles were confiscated in 2020–21, and Rs 5.7 crore was collected as fines.
In the district in 2021–2022, 112 automobiles in total were confiscated, and Rs 2.3 crore was recovered. 11 heavy trucks totaling Rs 25.4 lakh were confiscated up till July 9 of this year.
Similar to this, 194 automobiles in total were confiscated in Nuh in 2020–21, and Rs 2.5 crore was recovered. In the next year, 387 automobiles were confiscated, but only Rs 17.1 lakh in fines were collected. The mining department confiscated 83 automobiles in Nuh up until July 9 of this year and made a profit of Rs 4.3 lakh.
Environmentalists cautioned that mining would have a direct impact on Gurugram's and the surrounding areas' air quality, where pollution levels have been of concern for years.
"The vegetation there helps to purify the air. According to environmental activist Vaishali Rana Chandra, "If illicit mining is thus prevalent, it would not only ruin the forest cover but also endanger the fauna here. 49 of the 119 mines in Haryana are currently in use. Yamunanagar, Charkhi Dadri, Mahendergarh, and Bhiwani are home to the majority of the working mines.
Group Media Publication
Construction, Infrastructure and Mining
General News Platforms – IHTLive.com
Entertainment News Platforms – https://anyflix.in/
Legal and Laws News Platforms – https://legalmatters.in/
Podcast Platforms – https://anyfm.in/