Views: 127
Read Time:
2 Minute, 44 Second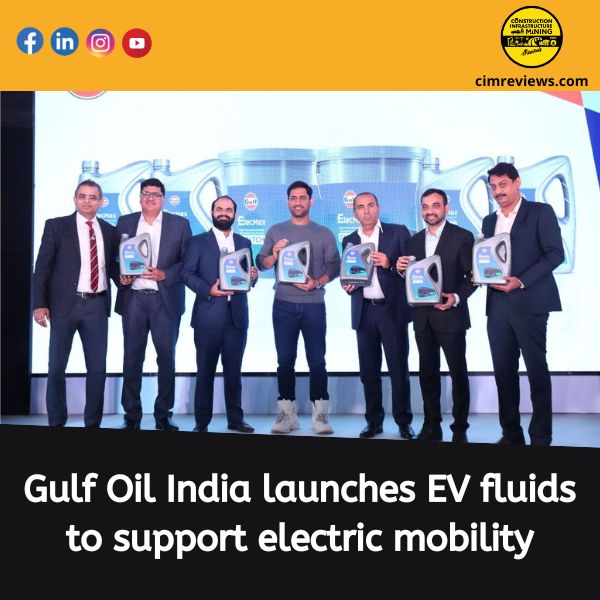 A Hinduja Group firm, Gulf Oil Lubricants, has established a cooperation with Piaggio Vehicles (PVPL) and Switch Mobility for a unique line of EV fluids. With this partnership, Gulf Oil will formally supply EV fluids to the lineup of electric vehicles from Piaggio Vehicles and Switch Mobility to increase their effectiveness and performance. Sanjay Hinduja, the chairman of Gulf Oil, and Mahendra Singh Dhoni, a professional cricketer and brand ambassador, attended the inaugural event.
Through this alliance, Gulf's whole array of EV fluids will be directly accessible to Piaggio Vehicles and Switch Mobility. These EV fluids will only be utilised by the EV Passenger & Cargo models from Piaggio and the EV models from Switch Mobility, such as the Switch EiV 12 and Switch EiV 22, respectively.
"Gulf Oil, which has a global range of EV fluids, has now entered into a collaboration with Piaggio Vehicles & Switch Mobility in India," stated Ravi Chawla, MD & CEO of Gulf Oil Lubricants India Ltd. This is evidence of a best-in-class product that will provide the 3-wheeler EV transmission in Piaggio vehicles with greater performance. Our product line, which includes transmission fluids and coolants, will provide Switch Mobility's electric buses with unrivalled performance. Gulf Oil is well positioned to participate in the 3-wheeler, 4-wheeler, and bus EV categories with each OEM tie-up.
"As the automotive industry begins a new era with electric mobility, it is our job as the premier technical leader in the lubricant space to push the industry and to produce segment-leading products to serve the EV sector," said Hinduja. The endorsement of our goods by renowned companies like Piaggio Vehicles and Switch Mobility strengthens our resolve to provide cutting-edge items for the EV market.
Switch is leading the charge in achieving net zero with cutting edge technology, according to Mahesh Babu, CEO of Switch India and COO of Switch Mobility. Our products Switch EiV 12 and Switch EiV 22 offer efficiency, technology, and best-in-class total cost of operations. Our collaboration with Gulf Oil to create Gulf ElecMax, a line of high-performance EV fluids, will provide our clients and end users with exceptional performance that fits the patterns of usage that are intended. We will keep improving our partnership with Gulf Oil so that it encompasses the full range of our product offerings.
"We have a successful collaboration with Gulf Oil for a wide range of lubricants for our ICE Vehicles," said Diego Graffi, chairman and MD of Piaggio Vehicles. In order to provide our customers high-performance options for the EV variants, we are collaborating with Gulf Oil. We anticipate a fruitful partnership that will accelerate India's EV adoption process.
In September of last year, Gulf Oil unveiled their extensive array of EV fluids, including Gulf Formula Hybrid for EVs and hybrid cars as well as Gulf eLEC Coolant, Gulf eLEC Driveline Fluid, and Gulf eLEC Brake Fluid. Gulf Oil has also teamed with ElectreeFi, an EV startup, to be ready for the future in India's sustainable mobility industry.
Group Media Publication
Construction, Infrastructure and Mining
General News Platforms – IHTLive.com
Entertainment News Platforms – https://anyflix.in/
Legal and Laws News Platforms – https://legalmatters.in/
Podcast Platforms – https://anyfm.in/