Views: 214
Read Time:
2 Minute, 20 Second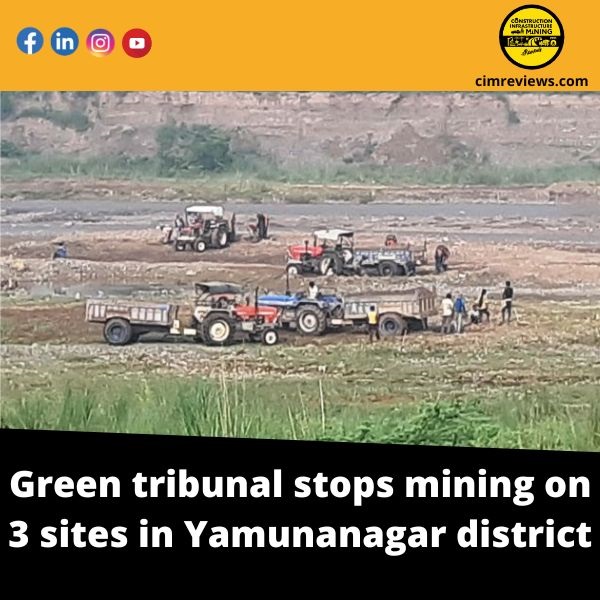 The National Green Tribunal (NGT) has issued an order prohibiting the mining of stones and gravel at three locations in Yamunanagar district's Mandoli Ghaggar (West), Mandoli Ghaggar (East), and Kanalsi villages.
The NGT issued this judgement on May 31, 2022, after hearing an appeal submitted by Mohinder Pal, who claimed in his complaint that the mining companies JSM Foods Private Limited and PS Buildteach had been granted leases to mine sand only on the locations in question.
The complainant claimed that the lease holders discovered new mineral boulders and gravel at sites but failed to notify the Mining Department. The complaint went on to say that they were illegally mining boulders and gravel on the job sites.
The applicant asked the NGT to order the Haryana government to halt these companies from mining in the villages of Kanalsi, Mandoli Ghggar (West), and Mandoli Ghggar (East).
He also asked the Pollution Control Board and the State Environmental Impact Assessment Authority for orders to recover environmental compensation from the companies for illegally mining boulders and gravel without any environmental clearance or approval.
He further urged that directives be issued to the relevant authorities to nullify the mining permits issued by the state government in favour of leaseholders for causing environmental harm and violating the Haryana Minor Mineral Concession Rules 2012.
The NGT observed in its order that the applicant's counsel had emphasised the applicant's request for interim remedy preventing respondents from mining boulders and gravels.
"Counsel for respondents has further asserted that the respondents did not continue, are not now continuing, and will not continue to mine boulder and gravel from the mining locations in question," the NGT judgement states.
"Even though respondents shall be bound by undertakings offered by their counsel," the order continues, "we think it necessary to grant particular direction that no mining of boulders and gravels shall be carried out on the mining sites in question by respondents until further orders."
The decision further directs the Director, Mines and Geology Department, Pollution Control Board, Deputy Commissioner, and Superintendent of Police, Yamunanagar, to take all necessary measures to ensure that no illegal boulder and gravel mining occurs on the mining sites.
Mines and Geology Department, Yamunanagar, Mining Officer Gurjeet Singh, said they had written to their higher authorities, demanding that they take suitable action in this regard.
There will be no mining of stones or gravel.
Even though respondents will be bound by their counsel's assurance, we believe it is fair to give particular direction that no boulder and gravel mining will be carried out on the mining locations in question until further orders are issued.
Construction, Infrastructure and Mining Group Media Publications
General News Platforms – IHTLive.com
Entertainment News Platforms – https://anyflix.in/
Legal and Laws News Platforms – https://legalmatters.in/
Podcast Platforms – https://anyfm.in/