Views: 156
Read Time:
4 Minute, 24 Second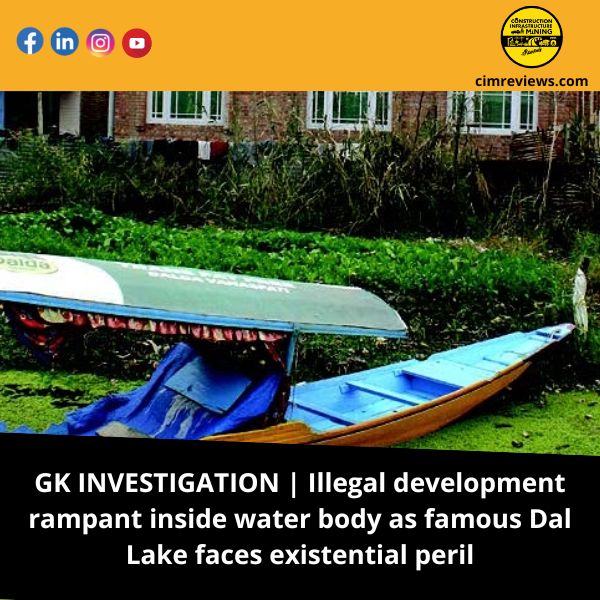 In spite of a ban on building in the interior of Dal Lake and its surrounding areas, illicit buildings are rampant there.
An exclusive investigation by Greater Kashmir revealed that the lake is experiencing an existential crisis and is home to illegal development taking place in plain daylight.
Numerous studies and analyses over the last few years have noted that these illicit operations are the reason why the famed water body is continuously diminishing.
The existing state of affairs demonstrated that the government has failed to prevent these unauthorised building projects.
Despite claims by the government that there is no encroachment on the water body, the reality is very different.
The Greater Kashmir team made a clandestine excursion to the Dal Lake's interior.
discovered that building was taking place in broad daylight and that many new structures had emerged in the lake's interior.
The Greater Kashmir team discovered that despite a ban on construction, people were sneaking in construction materials, and that too without road connectivity, while new homes and other structures were being built in areas like Kand Mohalla A, Kand Mohalla B, Tinda Mohalla, Sofi Mohalla, and other numerous areas of Dal Lake interiors.
Construction was ongoing in some locations during the visit, while other locations had plinths for new homes built and the majority of the work on other structures finished.
"Our families are expanding, and we require housing. how long has it been?
Can we remain alive in this room? The government needs to come up with a rehabilitation strategy so that we can all live in decent homes. When asked about the recently built plinth, a resident from the Dal Lake's interior responded, "We don't have road connectivity and we are working to obtain road connectivity as well.
Four of the ten water bodies in Kashmir had "no encroachment," according to a meeting last year on the effective implementation of the National Green Tribunal's (NGT) directives, which was presided over by Divisional Commissioner Kashmir.
The four bodies of water—Dal Lake, Hokersar, Meergund, and Shalabugh—that were exonerated in the encroachment case are those four.
The review meeting was held in response to a petition that
Raja Muzaffar Bhat, an environmental and social activist, spoke before the NGT about Kashmir's pollution and water body encroachment.
Bhat claimed that not enough had been done to address the problems of encroachment, landfilling, and waste dumping in his conversation with Greater Kashmir.
"NGT requested a number of reports regarding the petition I filed. A national response was sparked by it, and the Union Ministry issued several directives in this regard," he stated.
Environmentalists and experts have both issued warnings on Dal Lake's deteriorating condition.
According to numerous sources, the Dal Lake has become smaller as a result of ongoing encroachments.
Samiullah Bhat, an assistant professor at the University of Kashmir's (KU) Department of Environmental Sciences, stated that a number of issues, including encroachments, have been harming the environment and led to
to Dal Lake's gradual shrinkage over time.
"More buildings translate to a larger population and more biowaste entering Dal Lake. Untreated trash from new homes that enters the Dal Lake worsens the issue by introducing more weeds to the lake's waters. The majority of the trash is not processed and is dumped directly into Dal Lake. It has made Dal Lake's organic pollution worse. There are sufficient rules in place to address the problem, but they must be firmly put into practise, according to Bhat.
According to a 2017 assessment by the Dredging Corporation of India (DCI), the Dal Lake's original area of 22 sq km has been reduced to just 10 sq km due to encroachment and pollution.
The DCI also discovered that encroachments on water channels, blockage, and extreme pollution caused by untreated sewage and solid wastes flowing into the lake have reduced circulation and inflows into the lake.
According to a senior LCMA official, dredging recently took place around Dal Lake to clear the waterways.
The High Court of Jammu and Kashmir and Ladakh requested LCMA to take decisive action last year to guarantee that the area surrounding the Dal Lake was free of encroachment and that all illegal buildings were dealt with legally and promptly dismantled.
According to a representative of the J&K Lake Conservation and Management Authority (LCMA), the organisation is doing its best to
According to a representative of the J&K Lake Conservation and Management Authority (LCMA), the organisation is doing its utmost to control the illegal construction despite a lack of manpower.
He said that the working had been hampered by a paucity of staff in the division in charge of monitoring unauthorised development.
"We'll check at the aforementioned regions once more to ensure that no illegal conduct is tolerated. Anti-encroachment campaigns are ongoing for us. So far this year, we have conducted 60 drives and destroyed more than 300 unlawful constructions. In every division of our department, we intend to hire more people. The strategy for increasing camera surveillance surrounding Dal Lake has also been developed, according to Bhat.
Group Media Publication
Construction, Infrastructure and Mining
General News Platforms – IHTLive.com
Entertainment News Platforms – https://anyflix.in/
Legal and Laws News Platforms – https://legalmatters.in/
Podcast Platforms – https://anyfm.in/