Views: 186
Read Time:
2 Minute, 9 Second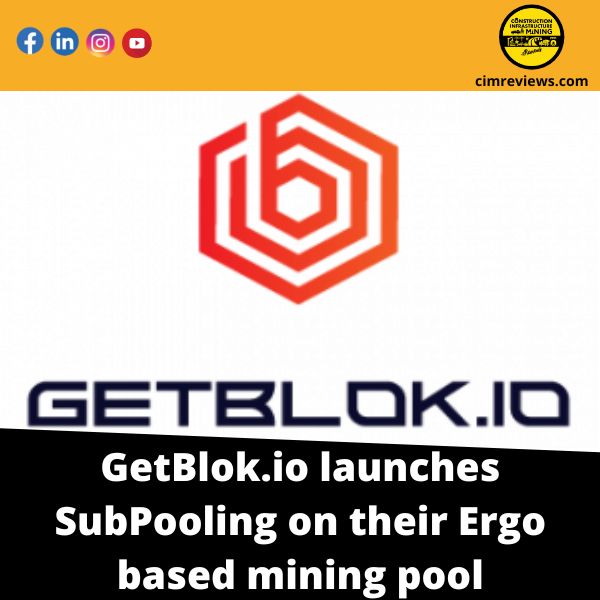 GetBlok.io announced that the long-awaited SubPooling integration on their Ergo-based mining SmartPool is now available.
WEST ALIQUIPPA, PENNSYLVANIA, UNITED STATES, June 6, 2022 The long-awaited SubPooling integration on GetBlok.io's Ergo-based mining SmartPool has finally arrived.
A SmartPool takes advantage of the blockchain's Smart Contracts to enable transparent, on-chain processing of a cryptocurrency miner's share and payment distribution.
SubPooling is one of the most recent technologies created by the GetBlok.io team. SubPooling is a method that allows miners to construct their own mining pools while still leveraging GetBlok.io's cutting-edge infrastructure. These SubPools can be used to allow miners to pool their hashrate in order to find and share block rewards in a cooperative effort. Payouts, distribution method, fees, assets rewarded, and other options can all be changed. Miners can also use the SubPooling infrastructure to distribute their own Ergo-based tokens as supplementary mining rewards in addition to or instead of ERG.
Our miners can now earn more assets for mining on a SubPool thanks to this incredible breakthrough. Our mission is to add value to our miners as well as the Ergo ecosystem.
Tokens that can be distributed are currently limited to Ergo native assets, such as digital art like Fungible and Non-Fungible Tokens (NFTs).
Ergo community-based initiatives have already taken notice of SubPooling. GetBlok.io will have numerous projects create their own SubPool in the coming days.
GetBlok.io will start a second phase following the original SubPools, which will feature user-based SubPools. Users can create their own SubPools right on the GetBlok.io mining dashboard Ergo.GetBlok.io with user-based SubPools.
Visit Ergo.GetBlok.io to learn more about GetBlok.io SubPooling, and be sure to follow them on social media for the most up-to-date information on product launches and new releases.
GetBlok.io does not guarantee the performance of assets distributed through any GetBlok.io SubPool. Please do your own research before investing in cryptocurrency.
GetBlok.io is a website that provides information on GetBlok.io.
GetBlok.io is a technology and innovation fund focused on applying and offering education, solutions, and capabilities based on the latest blockchain technology innovation. GetBlok.io is a blockchain solutions company based in Pittsburgh, Pennsylvania, with a global presence. It collaborates with the community, blockchains, and technological investments to improve humanity through blockchain solutions.
Construction, Infrastructure and Mining Group Media Publications
General News Platforms – IHTLive.com
Entertainment News Platforms – https://anyflix.in/
Legal and Laws News Platforms – https://legalmatters.in/
Podcast Platforms – https://anyfm.in/