Views: 163
Read Time:
4 Minute, 48 Second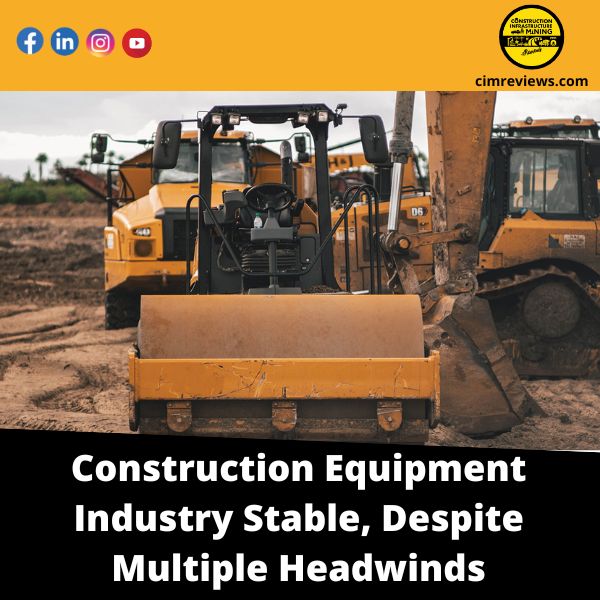 In light of the government's objectives and projects for the infrastructure sector, ICRA's outlook on the CE industry remains solid, with its capex being a significant driver for the Equipment business.
Due to Covid 1.0 and associated constraints, the volume of the construction equipment (CE) business decreased by 60% in Q1FY2021. However, as a result of the government's attention on the infrastructure sector, demand increased once more. As a result, the industry claimed a volume growth of 13% for FY2021, which was backed up by a significant volume increase in H2FY2021.
The Indian construction equipment market experienced numerous challenges in FY2022, despite having one of its greatest volume periods in the fourth quarter of FY2021. Restrictions associated with Covid 2.0 and a brief halt in road construction had an influence on the volume of the industry during the first quarter of fiscal year 2022. Additionally, demand decreased as a result of OEMs raising their pricing to cover increased costs brought on by changes in emission regulations and higher input costs, while CE operators' rentals remained stable, putting pressure on CE buyers' income.
One of the main factors determining the cost of raw materials for the CE segment is steel. A rise in CE prices has been brought on by rising steel costs, higher charter rates, and rupee depreciation, which together with heavy import dependence have exerted cost-side pressures. This is made worse by new emission standards (CEV-III to CEV-IV from October 1, 2021) that are expected to result in a 10-15% increase in the cost of new CEs that are compliant.
During the previous fiscal year, buyers stayed away due to the overall rise in ownership costs brought on by an increase in equipment prices and static or quiet rental rates. The industry's profitability suffers from negative operating leverage brought on by a drop in volume and rising input costs, with the majority of companies experiencing margin contraction in FY2022. CE players continue to be dependent on imported components, with shares as high as 40–50% in some markets, including excavators. Although there has been some cooling in steel pricing recently, industry participants will still see some benefits from the weakened rupee due to currency depreciation.
The aggregate capital spending of the 18 states is scheduled to increase by 14.5 percent to Rs. 5.0 trillion in FY2023 BE from Rs. 4.3 trillion in FY2022 RE, while the Center's capex is expected to increase by 24.5 percent to Rs. 7.5 trillion in FY2023 BE relative to FY2022 RE. Drinking water supply, metro and MRTS projects, roads and highways, and other important infrastructure segments have all witnessed increases in funding.
Additional funding for the PM Awas Yojna will also support the overall expansion of the construction sector, which will benefit the CE sector. Additionally, the National Infrastructure Pipeline (NIP) has expanded its scope to encompass 9,335 projects (up from 6,835 projects at its start), with a total investment goal of Rs. 111 trillion over the course of FY2020–FY2025. With the expectation that the states will contribute 40% of the total Rs. 111 trillion in the National Infrastructure Pipeline (NIP), the state government is also crucial to the project.
Over the past two years, many state governments have reduced their infrastructure investment below what is necessary due to the drop in revenues. The Union Budget 2022–23's intention to lend money to states for capital expenses and to enhance the allocation to Rs. 1 trillion in FY2023BE from Rs. 150 billion in FY2022 RE is encouraging in this regard. The state governments will have more room to increase capex as a result, it is anticipated. Overall, increased capital expenditures by the federal government and support for the states could improve the rate of infrastructure investment and continue to be favourable for generating steady demand for the mining and construction equipment sector, which experienced a slow pace in the previous fiscal.
ICRA predicts that the mining and construction equipment (MCE) market will have reduced volume growth of 2–5% in CY2022 as a result of the high base impact of H1CY2021 and near-term headwinds on demand. As a result of the infrastructure push in the Union Budget for 2022–2023 and anticipated growth in infrastructure activities before the elections in 2024, the volumes are anticipated to increase in H2 CY 2022.
Due to the fiscal year's (Apr-Mar) fiscal year's extraordinarily strong Mar-2021 third last year, the growth rates are different from growth on a calendar year basis. ICRA anticipates a 12–15 percent YoY gain in FY2023, despite the volumes having moderated by 17% in FY2022. The profitability of CE OEMs will be impacted by rising commodity costs and higher freight rates, but the recent drop in steel prices will offer some relief after the prices are adjusted for the majority of companies (likely from Q2 FY2023).
Additionally, the advantages of greater operating leverage against the backdrop of anticipated volume growth of 12 to 15 percent in FY2023 could also assist in reducing cost pressure. A further price increase in the current fiscal year is anticipated to substantially counterbalance the cost pressure. Many OEMs have already implemented sequential price increases in the past twelve months (between 5 and 10 percent). It may take another two years for the sector to return to normal in terms of operating profitability, according to ICRA Research, who anticipates that operating margins would sequentially increase in FY2023 but will still be below pre-Covid levels.
Group Media Publication
Construction, Infrastructure and Mining
General News Platforms – IHTLive.com
Entertainment News Platforms – https://anyflix.in/
Legal and Laws News Platforms – https://legalmatters.in/
Podcast Platforms – https://anyfm.in/