Views: 319
Read Time:
5 Minute, 15 Second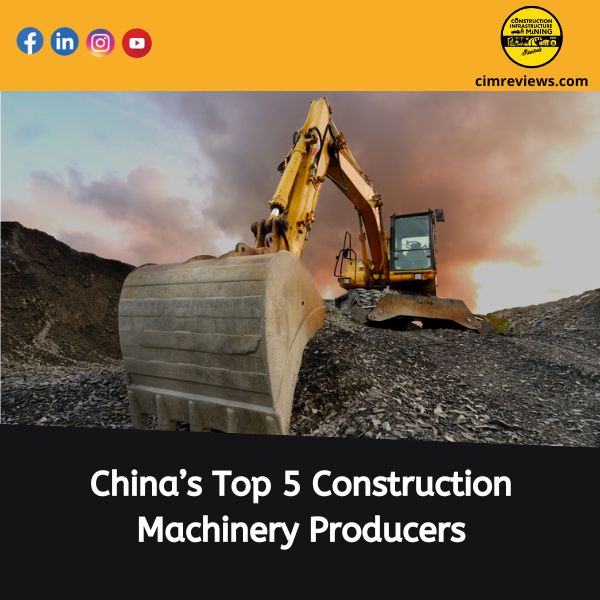 According to Fortune Business Insights, the market will grow by more than two-thirds from 2020 levels by 2028. Due to development brought on by population increase, a significant portion of this growth will originate in Asia and Africa.
China is probably going to come out on top in the Asia Pacific market, which is predicted to take over as the industry's leading market. The One Belt One Road initiative, which places a strong emphasis on large-scale infrastructure projects, is assisting China's expansion in the sector.
Despite the fact that the market leaders currently hold a 40% share of the global market, there is a strong regional bias due to producers' propensity to rule their home markets. Off-Highway Research's managing director, Chris Sleight, claims:
Sleight continues by saying that practically all of the machinery marketed in China was made locally, either by Chinese or foreign manufacturers. Both have seen a surge in exports, which now account for about 25% of total production. According to Sleight, exports have consistently increased since the late 2000s:
Despite a rise in exports, the health of the domestic market continues to be the deciding factor for local OEMs.
A number of significant players have developed as a result of the expansion of the domestic market.
One of the oldest Chinese manufacturers in the sector, Xuzhou Construction Machinery Group (XCMG), can trace its roots back to 1943. A sizable state-owned corporation with numerous plants and product lines, the company has its headquarters in Xuzhou, in the northern Jiangsu Province. The development of XCMG was supported in the 1990s by a series of joint partnerships with organisations like Caterpillar and Liebherr. This contributed to the corporation being the third-largest in its field globally.
More than US$1.6 billion of the company's $18.1 billion in sales today came from exports. Products cover a broad spectrum of categories, such as tunnelling equipment, road construction equipment, mining equipment, and piling equipment. Sanitation vehicles and firefighting apparatus are two other unexpected lines. An important distinction is that XCMG builds its own lorries rather than purchasing them for use in applications like concrete machines. The HANVAN line of trucks from the company first debuted in 2014. The XGC88000 from the firm has the biggest lifting capacity of any crawler crane in the entire world.
Private welding material plant founded in 1986 that was renamed Sany in 1991 is where Sany's origins lie. China's first high-pressure, truck-mounted concrete pump with a huge displacement was independently created by Sany in 1994. The company's current headquarters are in Changsha, Hunan Province's provincial capital. The business, which has sizable operations in the US, is the fourth-largest in the world in terms of revenues.
Sany excels in the manufacture of excavators as well as truck-mounted and crawler cranes. Sany, however, has a wide range of business activities, some of which are more peculiar than others. For instance, in addition to producing wind turbine platforms, the company also manufactures mining and tunnelling equipment.
R&D and the business include more than 7,000 personnel.
Zoomlion, a company launched in 1992 in Changsha, Hunan Province, evolved from a subsidiary established in Beijing in 1956. The company, which is listed on the Shenzhen and Hong Kong stock exchanges, developed through mergers and acquisitions of smaller businesses. Significantly, Zoomlion began its international development in the 2000s by purchasing the UK's Powermole and the Italian maker Compagnia Italiana Forme Acciaio SpA.
Zoomlion's ranking in the 2021 Yellow Book dropped from fifth to seventh. Due to China being one of the only markets with a high level of resilience in the face of the COVID slowdown, the company experienced strong growth in 2020. With sales of US$10.4 billion, the corporation saw its ranking decline while other markets recovered in 2021. Zoomlion focuses on producing machinery for the engineering and agricultural industries. Every year, it launches more than 200 products across the globe with an R&D workforce of over 6,000 individuals. Zoomlion currently exports to more than 80 nations.
LiuGong is commemorating the twentieth anniversary of its internationalisation this year. The company, which was established in 1958 in Liuzhou, Guangxi Province, became China's first manufacturer of publicly traded construction equipment when it was listed on the Shenzhen Stock Exchange in 1993. Joint ventures with numerous western corporations have aided in the company's growth. These now include joint ventures with engine and gearbox manufacturers Cummins and ZF.
The largest maker of wheel loaders in the world is LiuGong. Currently, the corporation employs 17,000 employees across its 20 manufacturing plants. The business sells its goods in 100 nations and provides a wide selection of items for use in industries like agriculture, mining, ports, general construction, and demolition.
Five. Shantui
Despite being founded in 1980, Shantui can trace its ancestry back to Yantai Machinery Factory, which was established in 1952. The corporation, which has its main office in Jining, Shandong Province, is a publicly traded state-owned business.
The company is well-known for its bulldozers, and for sixteen years, it has been the largest bulldozer manufacturer in the world, with a bulldozer manufacturing capacity of more than 10,000 units annually. Innovation has aided Shantui in retaining this position of leadership. 2019 will see the creation of the first remote-controlled, high-power 5G bulldozer in the world. The company is also developing electric items, such as the SD17E-X electric bulldozer, which will be available in 2020 and which Shantui claims will operate 60% more cheaply than a comparable fuel-powered model. Equipment for use in industries like mining and building roads is also produced by Shantui.
Although producers at the top of the business often have greater wiggle room, the industry is generally extremely price sensitive. David Meade, Head of Projects and Procurement at Camamach, says:
Future technology is probably going to turn toward more environmentally friendly devices, like the electrified ones Shantui is introducing. Sleight predicts that the transition will be gradual and reliant on the circumstances of the buyer:
Group Media Publication
Construction, Infrastructure and Mining
General News Platforms – IHTLive.com
Entertainment News Platforms – https://anyflix.in/
Legal and Laws News Platforms – https://legalmatters.in/
Podcast Platforms – https://anyfm.in/