Views: 173
Read Time:
3 Minute, 16 Second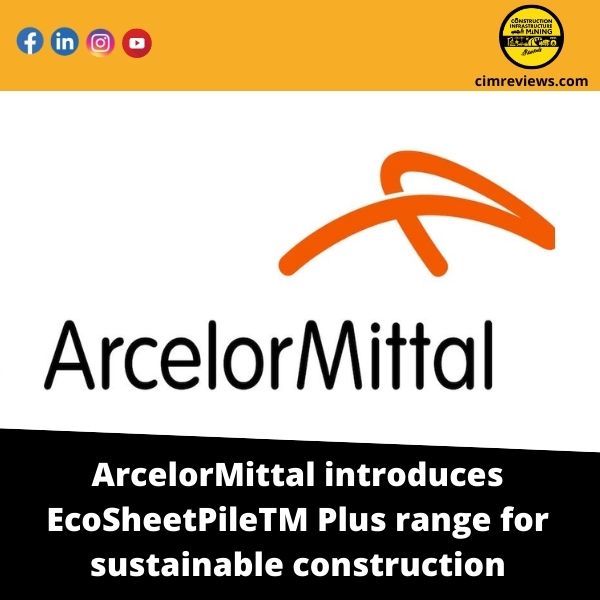 On its way to the desired climate neutrality in 2050, ArcelorMittal has accomplished another significant milestone. ArcelorMittal Europe – Long Products will exhibit steel sheet piles with a much lower carbon footprint at Bauma in Munich from October 24 to 30 with the EcoSheetPileTM Plus line.

Products made with EcoSheetPileTM Plus are already being used effectively in certain significant infrastructure projects across Europe. They are a component of the XCarb® recycled and sustainably sourced steel from ArcelorMittal. The items are produced utilising only sustainable energy from wind and solar sources in an electric arc furnace using only recycled materials.
The EcoSheetPileTM Plus range is created with only 370 kg of CO2-equivalent per tonne of steel produced, as verified by a special Environmental Product Declaration (EPD). In contrast, the average worldwide steel sector CO2 emissions in 2020 were about 2.3 tonnes of CO2-equivalent per metric tonne of steel products produced for all production routes (conventional and electric). There is also a certificate of origin for renewable electricity that was independently granted.
"When it comes to decarbonization, the building sector is one of the most difficult. Particularly in the public sector, regulations are growing more stringent. Only new projects that meet the standards for CO2 footprint are approved. Some nations, like the Netherlands, have begun incorporating environmental considerations into their procurement procedures for new public infrastructure. More sustainable solutions benefit because the environmental performance of the various bids is equally evaluated and valued. Tapas Rajderkar, Chief Marketing Officer of ArcelorMittal Europe Long Products, stated, "We are pleased to be the world's biggest producer of hot rolled steel sheet heaps, as well as being an industry leader in inventing and producing sheet pile products with a significantly lower CO2 footprint.
Use in numerous significant European projects:
ArcelorMittal is already successfully deploying the steel sheet piles from the EcoSheetPileTM Plus range in numerous significant European projects, such as the construction of a new fishing terminal in the port of Egersund, Norway, in accordance with its own Net Zero goal and client needs. Large circular cell buildings are being constructed there using 2,200 tonnes of AS 500 straight-web sheet piling. They will be filled with locally excavated sand to deepen the port and stop emissions from transportation.
The EcoSheetPileTM Plus line will dramatically lower the carbon footprint of a new quay wall at Ribécourt on the future Seine-Nord Europe canal in France. The new waterway will link French rivers to the network in Northern Europe and favour water travel over land travel in France. Some barges have the capacity of 220 trucks. A 200-meter quay wall is being built using ArcelorMittal's HZ®/AZ® hybrid wall technology. HZ 880M A-12 king piles and AZ 13-770 intermediate sheet piles total 910 t in weight. Once finished, the Ribécourt wharf will be utilised to transport building supplies for the subsequent canal development.
Demonstration of smart sheet piling solutions at Bauma:
Visitors can learn more about the future of "Smart Sheet Piles" at Bauma. These cutting-edge sheet piling solutions collect data in real-time and send it remotely; they may be used in quay walls, flood protection barriers, or bridges, for example. This offers an effective, managed, and automated monitoring of the structures, assisting with preventive maintenance that is affordable. The heightened safety factor is also important, to say the least. Alarm systems, for instance, can be utilised to identify possible situations earlier and aid in the prevention of floods. "The focal point of our booth at Bauma will be a live demonstration of the technical idea of smart sheet piles. We firmly believe that this innovation will help those involved in the infrastructure "Tapas Rajderkar was added.
Construction, Infrastructure and Mining Group Media Publication
General News Platforms – IHTLive.com
Entertainment News Platforms – https://anyflix.in/
Legal and Laws News Platforms – https://legalmatters.in/
Podcast Platforms – https://anyfm.in/