Views: 208
Read Time:
2 Minute, 53 Second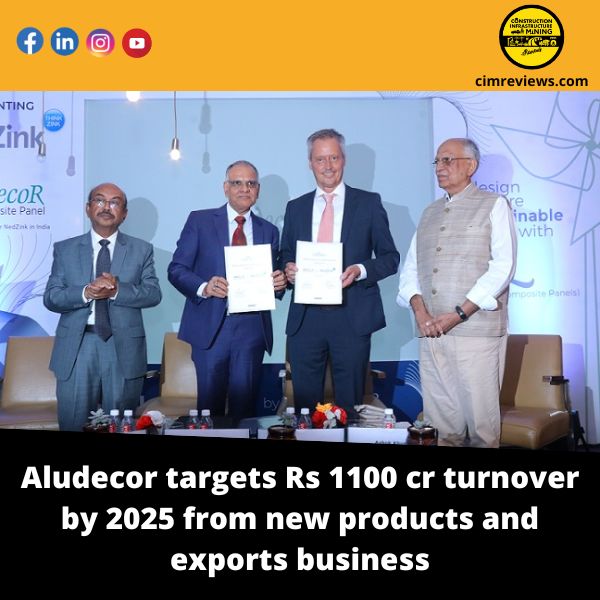 Aludecor, a producer of metal composite panels, and Nedzink, a producer of rolled zinc products, have joined forces to promote the use of eco-friendly building materials. By delivering sustainable and environmentally friendly solutions, the two market leaders in the building materials sector are poised to completely transform the Indian construction sector.
An important development in India's building materials industry is Nedzink's relationship with Aludecor. Since 130 years, Nedzink has been supplying zinc for use in roofing and façades on structures all throughout the world. The underserved but expanding Indian market holds huge promise for this sustainable metal. Aludecor, which has provided distinctive façade materials for more than 20 years, is expanding its reach and implementing cutting-edge sustainable solutions.
In order to take advantage of Nedzink's famous and top-notch zinc manufacturing skills, the two titans have chosen to collaborate in order to export rolled zinc goods to India.
"This is a tremendous moment for the country as two of the top leaders in the industry are teaming up to provide a green, sustainable, and recyclable product in the marketplace. In comparison to other metals, zinc is a more resilient, fully recyclable, long-lasting, maintenance-free material that also self-heals and emits fewer greenhouse gases during production. There are many advantages of zinc for society. says Ashok Kumar Bhaiya, CMD of Aludecor.
He continued, "We will offer rolled titanium zinc for use in roofing, façade cladding, and other cutting-edge applications.
According to the US Green Building Council's (USGBC) annual list, India's LEED-certified green buildings, which cover about 2.8 million gross square metres (GSM) of space, are rated third in the world.
The Indian market for metal facades is currently worth over Rs 4000 crore, and it is expected to reach over Rs 5,000 crore in the following two years. Zinc metal façade products presently make up less than one percent of this industry, but are predicted to increase to five percent during the next two to three years, creating a market worth Rs 250 crore. According to Bhaiya, Aldecor aims to generate Rs 1100 crore in revenue via exports and the addition of additional goods to its portfolio by 2025.
"India is a crucial market for us, and we will work hard with Aludecor to make the product popular in this country. Indian consumers will enjoy a product that is durable and sustainable thanks to NedZink's cutting-edge technology and skill in creating high grade titanium Zinc sheets sustainably in our plants. according to NedZink's group head of business development, Erwin Smeets.
Aludecor is rapidly increasing the manufacturing capacities by constructing a new factory in Haridwar, which will be operational before the year's end. As a result, Aludecor's total coating capacity would rise to 22000 metric tonnes.
"There are specific requirements, such as the use of sustainable materials and sustainable construction processes, to be considered a green building. A green building is an architectural structure that was made from sustainable and natural resources and was constructed in a way that did not severely harm the environment.
To ensure complete client satisfaction, it is also essential to have skilled installers, according to Dr. P R Swarup, Director General of the Construction Industry Development Council (CIDC).
Group Media Publication
Construction, Infrastructure and Mining
General News Platforms – IHTLive.com
Entertainment News Platforms – https://anyflix.in/
Legal and Laws News Platforms – https://legalmatters.in/
Podcast Platforms – https://anyfm.in/