Views: 170
Read Time:
1 Minute, 28 Second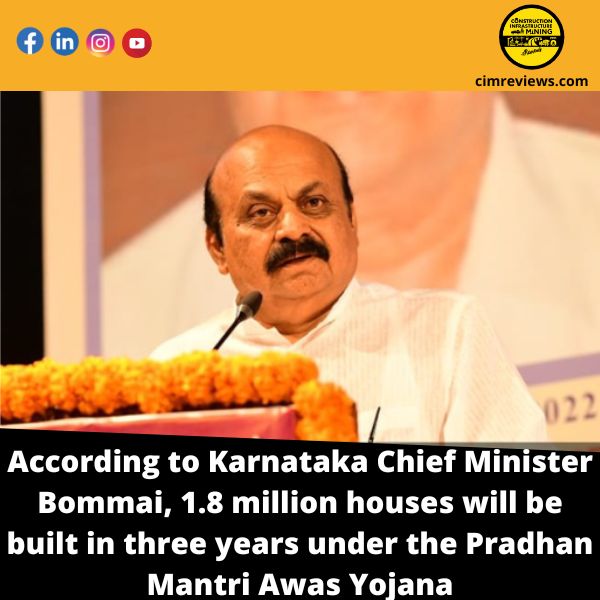 On Tuesday, Karnataka Chief Minister Basavaraj Bommai announced the construction of around 1.8 million dwellings under the Pradhan Mantri Awas Yojana during a meeting with beneficiaries of centrally sponsored social initiatives (PMAY).
"The Pradhan Mantri Awas Yojana aspires to provide a roof over each family's head in the country," he said, adding that nearly 18 lakh homes will be built in Karnataka under the scheme over the next three years.
Bommai also praised Prime Minister Narendra Modi's initiatives for the welfare of the marginalised, including the Pradhan Mantri Jan Dhan Yojana, Swachh Bharat Mission, PM Street Vendor's AtmaNirbhar Nidhi (PM SVANidhi), Pradhan Mantri Kisan Samman Nidhi, and Ayushman Bharat Yojana, and said that his big heart beats for the welfare of
According to him, the PM established these efforts so that the nation's working class and farmers might live a life of dignity and self-respect as well.
"He has fought diligently for the social and economic upliftment of the marginalised sections for the past eight years," he added.
"The welfare programmes should be established with a bottom to top approach," the chief minister said, adding that funds for social programmes had never reached the bottom section. The money, on the other hand, should trickle down from the top."
He went on to say that the PM's Direct Benefit Transfer scheme has radically transformed the way welfare programmes are funded.
"In the past, no Prime Minister could muster the political guts to ensure that every household had access to safe drinking water. PM Modi not only announced the project, but also ensured that it is implemented by all states," he added.
Construction, Infrastructure & Mining Group Media Publications
https://anyflix.in/, https://legalmatters.in/ & https://ihtlive.com/