Views: 105
Read Time:
5 Minute, 23 Second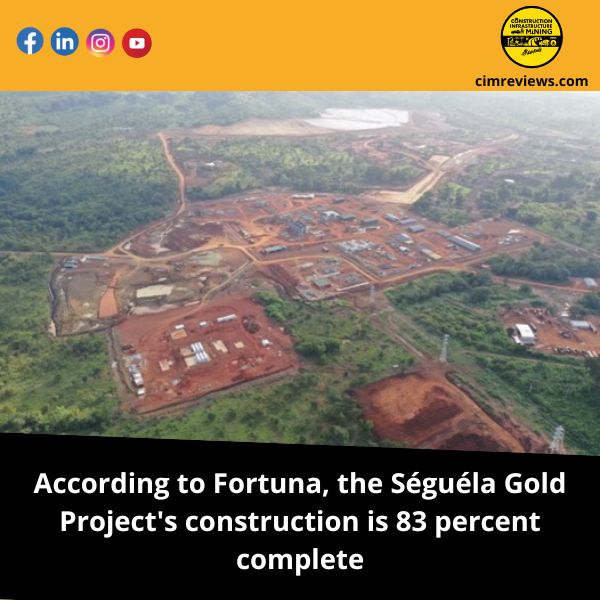 Nov. 2, 2022, VANCOUVER, British Columbia GLOBEE NEWSWIRE The Séguéla gold Project in Côte d'Ivoire is being built by Fortuna Silver Mines Inc. (NYSE: FSM) (TSX: FVI), and the company is happy to share an update on those efforts. The company decided to move on with building of a 3,750 tonne per day mill at Séguéla in September 2021, with the first gold pour anticipated in mid-2023 (refer to Fortuna news release dated September 29, 2021). In this news release, all references to money are stated in US dollars.
"We are glad to announce that the building development at Séguéla continues to track on-time and within budget despite a particularly difficult wet season," said David Whittle, Chief Operating Officer for West Africa. "The operation is now moving," Mr. Whittle continued.
With the creation of operational procedures and systems, the company may go ahead with the recruitment and onboarding of key senior staff, enabling a seamless transition from construction to operation.
Building Highlights
As of October 31, 2022, the project is 83 percent finished, and the first gold pour is still scheduled for the middle of 2023.
All SAG mill components have now been transported, and deliveries are still coming into Abidjan, Côte d'Ivoire; the final SAG mill package is scheduled to arrive in early December.
The structural, mechanical, and plumbing (SMP) contractor for the process plant has made progress on a number of work fronts.
The 90kV transmission line and substation are almost finished, and they are scheduled to be turned on in December.
The water storage dam now has 565,000 m3 of water in it.
(WSD), which meets the demands and requirements for commissioning and startup activities.
The tailings storage facility (TSFearthworks )'s and high density polyethylene (HDPE) lining will be finished by the end of 2022.
The mining contractor arrived at the location and started setting up.
Processing Facility
The critical path scopes for the plant have advanced quite well for Lycopodium. The primary construction projects as of the end of October include:
Civil and concrete construction is nearly finished, and the SAG mill pedestals have been turned over to the SMP contractor.
Construction of the carbon-in-leach (CIL) tank and completion of the hydrostatic and settling
Completed are hydrostatic testing and water tank assembly.
The reagents storage facility, warehouse, and workshop have all been constructed.
In the crusher, surge bin, milling, and grinding regions, structural steel was built.
Installations of mechanical equipment for the thickening, intense leach reactor, and apron feeder started.
Conveyor installation is in progress.
Spools of steel pipe have started to be made.
The project's critical path continues to include the delivery and installation of the SAG mill.
All components have been sent and are anticipated to be delivered to the site before the end of the year, despite risks and challenges associated with the global supply chain.
Bulk Earthwork at the Site
TSF and WSD construction is well underway. The WSD's construction is almost finished, and as of the end of October, it has already collected about 565,000 m3 of raw water in preparation for commissioning and switching over to operations. Likewise, the TSF embankment, which is scheduled to be finished this quarter, has made significant progress. HDPE lining has been installed on 48% of the TSF's total surface area. The lining contractor is returning to the site to finish lining the TSF now that the wet season is over.
Grid Relationship
The HV substation's construction was about 97 percent finished at the end of October. The substation will be powered up in December 2022, ahead of the commissioning of the processing plant, as planned.
Mining
The project's recruitment efforts are well under way, and Mota-Engil, the mining services provider at Séguéla, has dispatched a team to the location. After being purchased, all long-lead equipment began to arrive in the nation in October.
operational adequacy
The mine's operational phase is now being well-prepared for. Currently, Mota-Engil is working on civil projects related to the construction of its infrastructure, which includes offices, workshops, and an area for explosives magazines. It is anticipated that work on the ROM pad and preliminary grade control drilling will start.
when the current quarter ends.
The first shipment of mining machinery has arrived in Côte d'Ivoire, and other shipments of the mining fleet are anticipated during the quarter.
The general manager of operations and other senior management posts have been appointed, and operational mine team recruitment efforts are well underway. The remaining members of the operational team are still being recruited.
Cost
By October 31, 2022, $166.0 million had already been committed out of the $173.5 million total approved budget, which also includes a $8.9 million contingency. Contracts with a guaranteed maximum price of $87 million, fixed price agreements for $15.4 million, and bills of quantity and schedules of rates for earthworks totaling $13.7 million make up the entire commitments made to date. The remaining obligations are primarily made up of orders for the purchase of land, equipment, and materials.
Programs for financial compensation and job restoration.
Commitments to projects as of October 31, 2022:
As the Séguéla gold Project's development moves along, more information will be supplied about its construction. The photo collection for Séguéla's construction may be found here.
Suitable Individual
Raul Espinoza, the company's director of technical services, is a qualified person as defined by National Instrument 43-101, Standards of Disclosure for Mineral Projects, and a fellow member and Chartered Professional of the Australasian Institute of Mining and Metallurgy (FAusIMM CP). The scientific and technical details of the Séguéla Gold Project included in this news release have been examined and authorised by Mr. Espinoza, who has also validated the supporting data.
With regards to Fortuna Silver Mines Inc.
A fifth mine is being built in Côte d'Ivoire, and Fortuna Silver Mines Inc., a Canadian precious metals mining corporation, currently operates four mines in Argentina, Burkina Faso, Mexico, and Peru. Sustainability is central to all of our activities and interactions. We produce gold and silver, and through effective production, environmental preservation, and social responsibility, we create shared value over the long term for our stakeholders. Please visit our website for further details.
Group Media Publication
Construction, Infrastructure and Mining
General News Platforms – IHTLive.com
Entertainment News Platforms – https://anyflix.in/
Legal and Laws News Platforms – https://legalmatters.in/
Podcast Platforms – https://anyfm.in/